MotoGP: Steve Parrish on arm problems, Casey Stoner & Jerez

By Steve Parrish
BBC motorcycling commentator
Last updated on .From the section MotoGP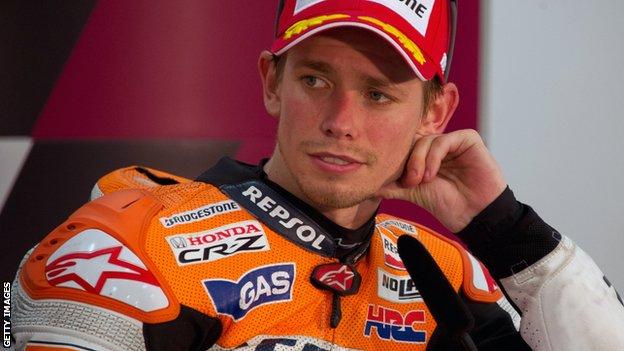 After three weeks away, MotoGP returns in Spain this weekend but one man who will not have had a break is Casey Stoner.
His Repsol Honda, along with several other bikes on the grid, suffered with chatter throughout the race weekend in the desert and, more worryingly, the Australian developed arm pump which cost him a win.
Arm pump is a real problem for racers. It is a build-up of pressure in the forearm and it can be agonising, and it makes riding these motorcycles exceptionally difficult.
The fact that it was the first race of the season will undoubtedly have played a part and Stoner said he has been working hard to eradicate the problem.
He hasn't told anyone what he does to combat it but he will have had some sort of physiotherapy.
In my day I had a pair of handlebars in my garage, on a rope with a weight on the end - but it's a bit more advanced this days.
The other problem he's been having is chatter, a low-frequency vibration which upsets the bike, particularly under braking.
If anyone has ever had the anti-lock braking system kick in on their car it is a similar sensation to that - the front tyre can even skip into the air, which, when you're trying to slow down from over 200mph, is a major headache.
There are several things they can do. Bridgestone have brought out a new tyre, which is sometimes the cause, and they may have got that sorted, and the rider can also alleviate the problems by riding more smoothly.
That's a problem for Casey as he rides in such an aggressive manner.
The combination of arm pump and chatter is enough to give any rider nightmares, but I still fancy Stoner to win this weekend.
He will be kicking himself that he didn't win in Qatar after leading all through the winter and qualifying and, although he has not got a good record around Jerez, I think he will come out on top.
He is such a competitor that you just never write him off.
It's been a big few weeks for Cal Crutchlow as well after his excellent fourth place last time out.
Realistically, unless anything happens to the front three, fourth is the very best that he can do, but even to finish there is something else. With some of the guys he has to beat it's an amazing achievement.
I had dinner with Cal in the Isle of Man last week and he is brimming with confidence.
He has got the best of the bike now, last year it had the best of him. It's like breaking in a horse and now he has tamed his Yamaha.
Cal knows as well as I do that there is a long way to go and he won't get carried away, but if he carries on riding like this then there will be some factory teams taking a long, hard look at him.
He is out of contract at the end of this season but so are a lot of guys. He is doing exactly what he needs to do and it's great to see.
Let's hope he carries on this weekend.
Steve's Jerez prediction:
1) Casey Stoner 2) Jorge Lorenzo 3) Dani Pedrosa