MotoGP: Steve Parrish on potential race winner Cal Crutchlow

By Steve Parrish
BBC motorcycling commentator
Last updated on .From the section MotoGP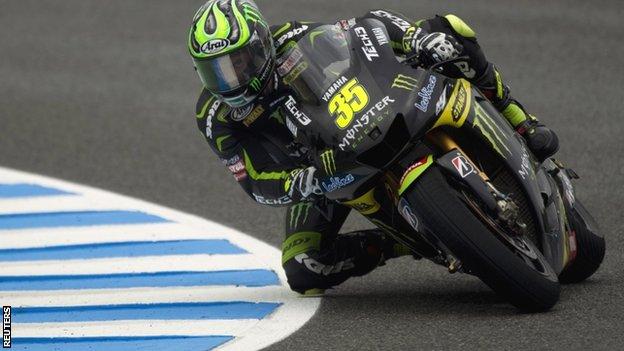 British biking fans - stand up and pay attention.
and we've potentially got a MotoGP race winner on our hands here.
He was only two-and-a-half seconds behind winner Casey Stoner and he set the fastest lap of the race.
He was solid as a rock and I'm really pleased for him. He'd had a tricky weekend, crashing in qualifying as the riders battled with difficult conditions, but he handled it all brilliantly well.
Every time he's been on the track he's been up there. He's come on so much and made a big transition from where he was in the middle of last season.
He has adapted to grand prix racing.
Maybe it's been a bit easier for him with the move to 1,000cc bikes but to set the fastest lap and finish fourth amongst company like that is stunning. Just stunning.
I expected Dani Pedrosa to drop him off as the race wore on but he battled with him every step of the way and he is so close to a podium finish now.
We haven't had a British rider up on that podium for 12 long years since Jeremy McWilliams was third at Donington Park in 2000, but the wait will surely be over soon.
In general, it was another excellent race and the first two or three laps were full of heart-in-mouth moments.
There was so much fairing-bashing and overtaking, and the change in regulations seems to be working.
The 1,000s have a wider spread of torque, and you can ride them in different ways. In Jerez we saw riders taking different lines through corners and using a variety of techniques.
I'm not saying it's any easier but it looks like if you make a small mistake you are not punished as much as you were on the 800s.
I still think that Casey Stoner is the fastest man on the planet on a motorcycle though.
Casey said he had arm pump again but whatever they've been doing seems to have improved it. He'll have to keep that up but generally the more you ride the better it gets.
At Estoril next weekend he should be back to full fitness, but Jorge Lorenzo will surely keep him honest all year.
It only needs a puncture for Stoner or a small tumble, the slightest thing and Lorenzo will be there all the way until the end of the season. It's going to be a really good season right to the end.
And maybe we can even have some long overdue British success to celebrate.
Steve Parrish was talking to BBC Sport's Tom Rostance.