MotoGP: Steve Parrish on Valentino Rossi's fall from grace

By Steve Parrish
BBC motorcycling commentator
Last updated on .From the section MotoGP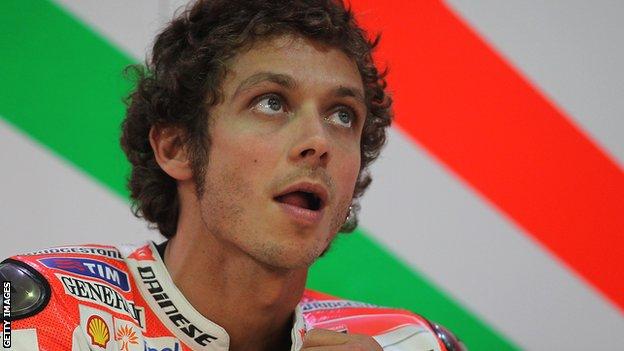 It's a quick turnaround for the MotoGP teams as we head straight from stormy Spain to rainy Portugal - and we look set for lightning and all sorts this weekend.
He has finished ninth and 10th in the two races so far, while British rider Cal Crutchlow has bagged two fourth-placed spots, and I'm afraid that we have to accept that Rossi has an issue.
He has been way off the pace since joining Ducati last year, but his problems are not down to Ducati anymore.
He is being beaten fair and square by team-mate Nicky Hayden and he qualified 3.5 seconds off the pace in Jerez. The bike cannot be that bad, it's not possible.
The pace he was going last weekend was just too ridiculous for words.
The Valentino Rossi of two or three years ago could have ridden around any problems he may have been having and would have been two or three 10ths off the pace - but not 3.5 seconds.
It's a shame but he's a human being and he has lost confidence. A result would bring it back but at this time it's horrible to watch and I'm embarrassed for him.
He can't be enjoying this. When you go to his press conferences no-one wants to look him in the eye, the team have got their heads down. They have done all they can to fix the bike, now it is up to the rider.
I never thought we'd be saying this about Mr Valentino Rossi but he's like us after all; he's got two arms, two legs and a brain and right now it's not telling him how to go fast.
Despite his poor results, there were still people queuing up to get a glimpse of him in Jerez and they always will do because the memory of his tremendous perfomances over the years will never really fade away.
That's why it's so sad. You can't see any of the current riders ever generating that sort of popularity. He's a rock star.
No-one else out there has that sort of personality, and we need to find them. We thought we had with Marco Simoncelli so now we need to find another star.
If he's not enjoying it why would he want to continue? This will probably be his last year, and that will be terrible news for the sport.
But what is good news for the sport is that both races so far have been excellent to watch, and it looks like the change to 1,000cc bikes is helping with the racing.
Cal Crutchlow's form is also great news for everyone and it's not inconceivable that he could be on pole position come Saturday, particularly if there are awkward conditions.
I really think that a podium is just around the corner for Cal. I can't say the same for Valentino Rossi.
Steve's Estoril prediction:
1) Dani Pedrosa 2) Casey Stoner 3) Jorge Lorenzo
Steve Parrish was talking to BBC Sport's Tom Rostance