MotoGP: Steve Parrish on the title fight and saying goodbye to Estoril

By Steve Parrish
BBC motorcycling commentator in Estoril
Last updated on .From the section MotoGP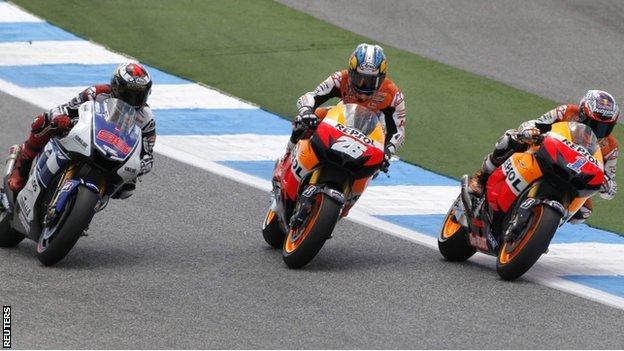 It may have taken three races, but we now have Casey Stoner at the top of the MotoGP standings.
But while last year was a canter to the world championship for the brilliant Australian, this year already feels a bit more of a challenge for him.
and it wasn't the most riveting race, but what it did tell us is that there is nothing between the top three riders this season.
In Repsol Honda team-mate Dani Pedrosa and Yamaha's main man Jorge Lorenzo, Stoner has two adversaries who are going to hound him all the way this year.
The Yamaha is every bit as good as the Honda now and it will go down to the wire.
There is nothing between Lorenzo and Stoner while Pedrosa is absolutely capable of getting some wins on the board.
In Portugal, Stoner flew out of the traps and that was explained when Lorenzo said after the race that he burned his clutch out at the start.
But again, as we've seen in all three races now, Stoner wasn't able to pull away commandingly and, by halfway, Lorenzo and Pedrosa were right back on his back wheel.
We all expected a real tussle then but Stoner was able to manage the race expertly well and that's why he's top dog at the moment.
After the race Stoner was again complaining of some arm pump issues, and some chatter problems with the bike, so you just worry that when he is finally totally happy with everything and the bike is sorted then he will clear off into the distance.
Behind those top three, Cal Crutchlow was again in the mix but this time he was beaten into fourth by team-mate Andrea Dovizioso.
That had to happen at some point, but it was another very solid ride by Cal and a podium is not far away.
Let's not forget that Dovi was third in the championship last year and it says something when you feel a bit disappointed that he finished ahead of Cal.
In other news, Colin Edwards missed the race after breaking his collarbone in one of the most unfortunate accidents I think I've ever seen.
Edwards was on a slow lap during qualifying but he did everything right as he got way off the racing line and he didn't even see Randy de Puniet coming.
De Puniet then unfortunately fell off and skittled Edwards with him. Edwards' first words to the marshals when they helped him were unprintable, but along the lines of "what was that?" He didn't even know what had happened.
Colin made a miracle comeback last year when he finished third at Silverstone nine days after breaking the other collarbone but he had more to race for then and I'm not sure he'll be so motivated this year.
It may also be goodbye to Estoril, as all the talk in the paddock is that we won't be back here next year.
It's a shame, as it's a proper racetrack with some hugely exciting corners, but it has seen better days and, in truth, needs a few quid spending on it.
The track is owned by the local government and, in these times of austerity, maintaining a big old racetrack is not at the top of their list of priorities, which you can understand.
When I checked out of the hotel this morning, the receptionist was very downbeat as they fear losing the race will have a big impact on the area. For this weekend the prices were reduced to just two and five euros and it worked as the place was packed out.
So we'll say goodbye for now to Portugal - but maybe we'll be back in the future. As for this season, it's on to Le Mans next and expect another three-way tussle for the win.