Ducati plan new spec engine on Desmosedici GP12
Last updated on .From the section MotoGP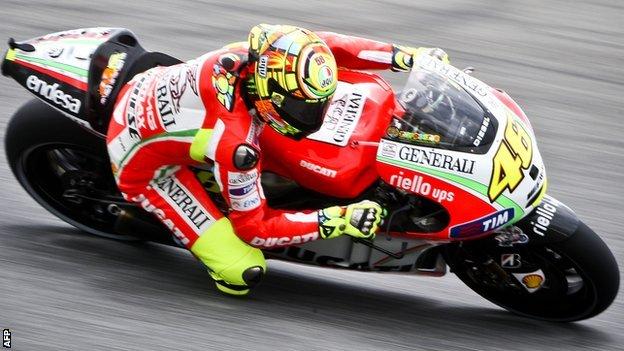 Ducati Corse general manager Filippo Preziosi has revealed the team hope to have a new engine on their Desmosedici GP12 by the end of July.
Leading rider Valentino Rossi has said the increase to 1000cc horsepower has made it difficult to control the bike against wheeling and sliding.
Preziosi said: "One of the things we're working on is to improve driveability.
"We have tests in May, June and July. We plan to test with Valentino in May and with Nicky [Hayden] at all three."
Preziosi said the new spec engine would first be tested at a GP at the Silverstone round in June if the riders are happy with testing, with the final engine made ready for the Laguna Seca race at the end of July.
This would mean that Rossi would not be able to debut the complete package until after his home race at Mugello, which Preziosi regarded as "unfortunate, because Valentino likes that race a lot and it is our home track."
Speaking about the factory's measures to combat the problems, Preziosi said: "One of the items we are testing is an engine that has more torque at low rpm and less power at high revs.
"The engine we have now has a lot of torque even at low rpm, and in fact we are not opening the throttle body at low rpm, because the torque is more than the chassis is able to use. We are very interested to find out from our riders if it makes sense to have more torque and less top power, even with this kind of engine."
Commenting on the understeer issues that have plagued their riders on the GP12, he added: "We believe that the engine driveability will help with the understeer but we are also doing some other things on the chassis side to reduce it."