Bradley Smith to ride in 100th Grand Prix
Last updated on .From the section MotoGP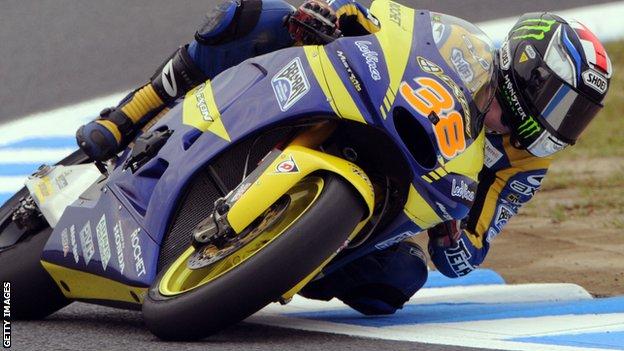 Tech 3 Racing rider Bradley Smith admits he does not know where the time has gone as he prepares to make his 100th Grand Prix appearance on Sunday.
The Oxfordshire-born Moto2 rider made his Grand Prix debut on 26 March 2006 in a 125cc race in Jerez, aged 15.
Over the past six years, 21-year-old Smith has won three Grands Prix.
"It's been an amazing adventure with plenty more ups than downs," said Smith, who next year will ride in MotoGP for his Tech 3 team.
He also finished runner up in the 2009 125cc World Championship and last year finished second in the Moto2 race at the British Grand Prix at Silverstone.
In total, Smith has been on the Grand Prix podium 23 times and has been second on nine occasions and third 11 times. During those six hectic years he has only missed four races through injury.
"It's brilliant that the anniversary is at Le Mans. That's where I took my first podium five years ago and it's the home track of my Tech 3 team," he added.
"Squeeze that all into one and I'm ready to have a real go over the weekend.
"I'm really excited because I scored my first Grand Prix win at Jerez three years ago on my 50th GP appearance.
"There may not be a repeat at Le Mans, but anywhere nearer the podium will be a step forward."