MotoGP: Steve Parrish on crashes, consistency & Le Mans

By Steve Parrish
BBC motorcycling commentator
Last updated on .From the section MotoGP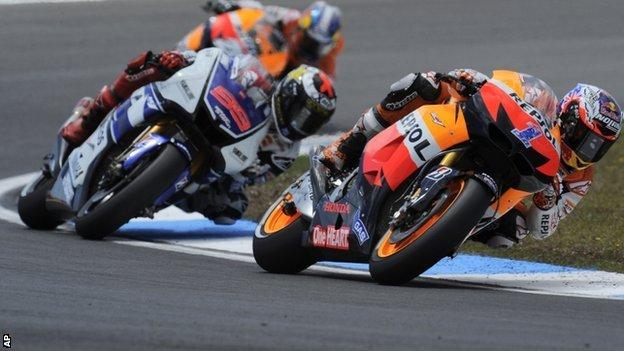 Casey Stoner heads to Le Mans this weekend with a single-point advantage over Jorge Lorenzo at the top of the MotoGP standings - and all the top riders are now focusing on consistency.
What we've seen so far in the three races we have had this season is that there is nothing to separate Stoner, Lorenzo and Dani Pedrosa at the front.
When you have two or three riders so close to one another, then inevitably mistakes will be heavily punished.
You have to make Stoner favourite to win again - he's been looking pretty comfortable - but we've not yet seen a straight dogfight between all three of them.
None of them have made a mistake yet; they've been solid and a mistake or a crash could decide this championship.
Lorenzo's crash at Silverstone proved important last year and failing to finish a race this season could be even more important.
They all know that and are treading that fine line between pushing as hard as they can and falling off. They're all wise now, though, and know the points you gain for third are better than risking all and ending up with zero.
Le Mans is a really stop-start type of track with no proper straights and it should be good for Britain's Cal Crutchlow.
He'll enjoy it, he's good on the brakes and there is no pressure on him. We all hope he has a good run.
Le Mans was the scene of Valentino Rossi's only podium so far for Ducati last year, but sadly I don't think there's any chance of a repeat this weekend - there are at least five or six guys faster than him at the moment.
Colin Edwards is out with a broken collarbone and he has decided that he couldn't make the same miraculous recovery he managed last year.
Truthfully, if Colin was on the same bike as last year he may have made the effort but he's in no rush to get back on his CRT machine.
It means we have Chris Vermeulen back in the paddock at the track where he picked up his only win in MotoGP a few years ago.
It's also worth pointing out that Moto2 rider Bradley Smith is riding in his 100th grand prix this weekend, an incredible effort given that he is only 21. He rented a private aeroplane to travel in style for this weekend, and why not?
He is set for a big future but has not had the best of times so far this season. Let's hope that he has a better race this weekend.
Steve's Le Mans predictions:
1. Casey Stoner 2. Jorge Lorenzo 3. Dani Pedrosa