MotoGP: Steve Parrish on Casey Stoner's shock announcement

By Steve Parrish
BBC motorcycling commentator in Le Mans
Last updated on .From the section MotoGP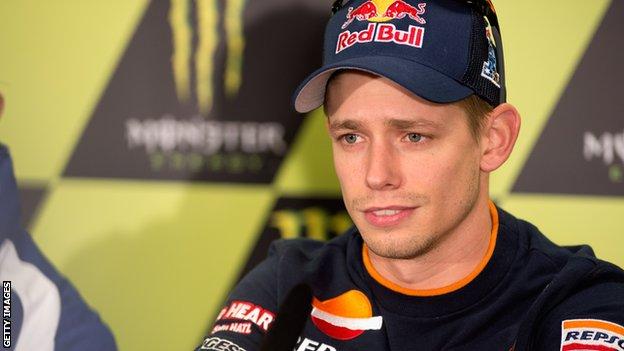 So Jorge Lorenzo walked the race in Le Mans and now leads the Championship but I think everyone is talking about two things.
Stoner's retirement was a big shock to me, to the journalists and to the riders and it's just extraordinary to retire at 26 years old. He said he gets fed up with all the stuff other than the racing. Well we all get fed up with parts of our jobs, I think.
I guess the only thing you can arguably say is that he is in a position, unlike a lot of us, to not have to have to put up with it so he can say 'I am off going fishing and hunting'. It's a very brave move and I tend to think he will perhaps regret it in three, four or five years' time - unless of course he has got something else lined up that we don't know about.
It's easy to retire when you are having a horrible time and things aren't going right but when you are at the top of your game and leading the championship it is a shock.
Being the current world champion it is reported that Honda offered him double what they paid him last year and he wasn't interested. He had just decided that he has had enough and I find it extraordinary.
OK, he has just had a child but I interviewed him at the start of the year and said 'do you think it will slow you up now you've got a family?' and his answer was 'no, I don't think so because nowadays the sport isn't as dangerous as it used to be and people don't get injured and killed that often'.
While true actually, sadly we lost Marco Simoncelli last year but it was a long while before that. It's not as if it is a hugely hugely dangerous sport, it does hurt, I know, but I am astonished and it's a sad loss to the sport.
He's always been a bit of an angry young man and he's always at war with the world and he's always in a temper about something and I just think he's got a bee in his bonnet now, he's not happy and he can afford to retire and go on and do other things.
It was a strange time to announce it, you'd have thought it would have been later in the year but I don't think it had any bearing on the result.
He did have some issues. I think if he was to come here on a day when conditions were better then he would win again but it's all very peculiar and the talk of the paddock.
The only people who are pleased are probably his mother, his wife and Lorenzo, who can probably up his salary now.
Strange conditions can always see the applecart upset, wet conditions make for a whole different ball game and Rossi just happened to have a bike that worked for him today but we are all hoping it has changed his fortunes.
Maybe it has rebuilt his confidence a bit and put the spark back into him because he has understandably been in the doldrums with his results, but it was great to commentate on.