Azi Farni Moto GP column: Crutchlow & Dovizioso flying high
By Azi Farni
BBC Sport MotoGP pit-lane reporter
Last updated on .From the section MotoGP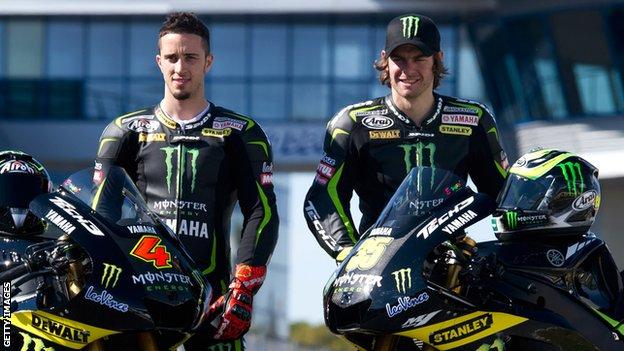 Herve Poncharal's satellite Yamaha Tech 3 outfit have had a near-perfect start to the season, with Italian Andrea Dovizioso's first podium onboard the Yamaha M1 coming after just five races and Briton Cal Crutchlow's equally impressive start.
The pair currently lie fourth and fifth respectively in the championship, separated by only four points. The close on-track battles between them in the opening five rounds of the season have created some tense moments for their team boss.
"The fact they are so close to each other gives us a hard time because in almost every race they have been passing each other every corner," said Poncharal. "This is good for the show and thanks to this we have had a lot of coverage, but it's not good for my heart!"
With Crutchlow and Dovizioso, both 26, fighting so closely, and the prospect that one of them might have to make way for Bradley Smith in 2013, there was always the possibility a fractious relationship might develop, but so far Poncharal has managed to avoid a repeat of the angry conflict between Colin Edwards and James Toseland in 2009.
"The relationship between Cal and Andrea is almost perfect," added Poncharal. "We had a wall in our garage the past three or four years and now we've taken it off, because the riders asked. So this shows you how good everything is inside the team."
Does he think the fight for a 2013 seat has contributed to Crutchlow's 2012 form?
"Maybe it has but I think Cal doesn't need motivation because he's always pushing 100% and always giving his best," said Poncharal. "I think Andrea joining was a big point. If you can be in front of Andrea it means you are in front of the number three in the world, which means a lot.
"Yamaha is producing a brilliant racing machine for the MotoGP class, which is helping us to attract a lot of talented riders. But Cal doesn't need anybody to push him, he is the first one to push himself."
With all current MotoGP riders except Stefan Bradl out of contract this year, speculation has already started about 2013 and Poncharal expects both his riders to be coveted by factory teams. Rumours already abound about Ducati's interest in Crutchlow.
Poncharal said: "I think, since Casey Stoner announced his retirement, there are two guys now holding the keys to the transfer market - Jorge Lorenzo and Valentino Rossi. Once they have finalised their strategy for 2013 the other riders will be able to start thinking, talking and eventually moving.
"I would like to be in a position to retain Andrea and Cal but it will be difficult because I think these two guys are on every team manager's list. Maybe I have to wear a short skirt to tempt them!
"If I were Ducati management I would approach Cal and Andrea. But they have to have a shorter skirt than mine."
The switch to 1,000cc machines this year and the emergence of new talent has seen some closer racing in 2012 and Poncharal believes the gap to the factory riders is closing.
"The fact Cal and Andrea are now in the top five group almost every time makes a lot of changes because so far we've had an established order that was maybe making races boring sometimes," he said.
"Now this order seems to be changing. Stefan Bradl [the current Moto2 World Champion] is coming and he's improving all the time, Alvaro Bautista [San Carlo Honda Gresini] is getting better. Our two guys have been fast from the start of the season but they still have some margin for improvement.
"But every race is a different story so I don't want to say we are going to be top five every race."
Crutchlow's impressive performances have created a lot of expectation for a first MotoGP podium at his home GP at Silverstone on 17 June, but Poncharal knows only too well the pressures a home race can bring.
"I've done two British GPs with James [Toseland] and it was very difficult," he said. "Last year with Cal it was very difficult. It's not easy to handle the pressure and this year we will try to protect him as much as we can but he will feel extra pressure to do better.
"He can do a podium there. Will he? We will know only once the flag is down."