MotoGP leader Jorge Lorenzo signs with Yamaha to 2014
Last updated on .From the section MotoGP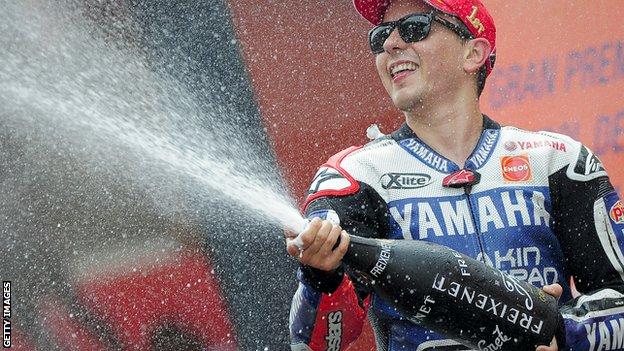 MotoGP championship leader Jorge Lorenzo has signed a two-year contract to stay with Yamaha.
Lorenzo, who joined the Japanese team in 2008, won the MotoGP world title in 2010 before finishing second to Casey Stoner last year.
The Spaniard has a 20-point lead in this season's standings after winning three of the first five races.
"I've been treated like part of the Yamaha family since 2008 and I love working with them," Lorenzo said.
"Now I can focus on the championship and I'm looking forward to paying back Yamaha's trust in me, starting at Silverstone this weekend."
Stoner, his nearest rival, announced in May that he will retire from MotoGP at the end of this season."
Lorenzo has the chance to extend his title lead over the Australian in the British Grand Prix at Silverstone this weekend.
The 25-year-old moved into MotoGP with Yamaha after winning two 250cc world titles, finishing fourth in 2008 and second in 2009.
His title challenge last year was ended in a crash in the warm-up at the Australian Grand Prix. He lost part of his finger, but it was successfully reattached in surgery.
Lorenzo won the opening race of the season in Qatar, then finished runner-up to Stoner in Spain and Portugal before taking victory in Le Mans and Catalunya to regain the title lead.