BBC Radio 5 live to broadcast eight hours of British MotoGP
Last updated on .From the section MotoGP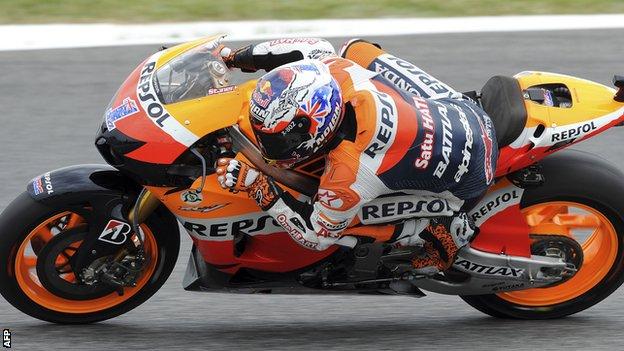 The British MotoGP at Silverstone, which takes place this weekend, will be broadcast live on BBC Radio 5 live and 5 live sports extra.
The stations will broadcast more than eight hours of live coverage starting with practice sessions on Friday.
The coverage culminates in the MotoGP on 5 live from 13:00 BST on Sunday.
"This is a terrific opportunity for us and for British motor sport," said World Sports communications managing director Glynn Cropper.
Former rally driver and experienced motorsport broadcaster Andrew Coley will present the coverage.
He will be joined in the commentary box by Jeremy McWilliams, the last British rider to take a podium place in the British MotoGP.
"I love motorsport and get the same nervous excitement sitting in the commentary box as I do when I'm competing myself," said Andrew.
"I'm very much looking forward to covering the pinnacle of motorcycle racing with MotoGP for 5 live this weekend; the racing is exciting whatever the weather and we've a genuine British interest too."
Full information for MotoGP on BBC TV
Saturday 16 June (all times in BST)
1255 -1605 - Red Button: MotoGP Silverstone Qualifying
Sunday 17 June
1105-1230 - Red Button: Silverstone Moto2
1230-1430 - BBC two + HD: MotoGP: Silverstone
1430-1530 - Red Button: Silverstone Moto 3
Full information for MotoGP on Radio 5 live and 5 live sports extra:
Friday 15 June
0845-1215 - 5 live sports extra: First practice round 6
Sunday 17 June
0845-1255 - 5 live sports extra: Round 6 MotoGP warm ups and Moto2
1300-1400 - Radio 5 live: British MotoGP