British MotoGP: Injured Cal Crutchlow to defy doctors
By Lawrence Barretto
BBC Sport at Silverstone
Last updated on .From the section MotoGP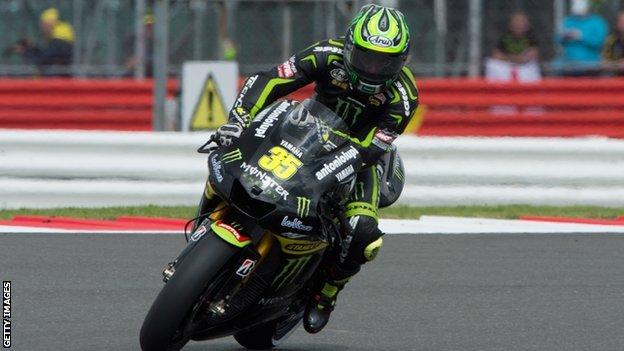 Britain's Cal Crutchlow says he will continue to race despite doctors advising him to take eight to 10 weeks off after he broke an ankle in a crash.
Crutchlow crashed in final practice for the British MotoGP and missed qualifying but doctors let him race.
The Tech 3 Yamaha rider raced from the back of the grid to finish sixth, 15 seconds behind winner Jorge Lorenzo.
He said: "If I raced here today, I would say I'll be racing at the next race in Assen in two weeks' time."
The 26-year-old added: "If they pass me fit here, they've got to pass me fit at the next race unless I have an operation - and I won't be having an operation.
"The doctors said they could operate and put a pin in it but the guy who I saw on Saturday, who is an ankle specialist, said it would make it worse.
"The doctors told me I was not allowed to put any weight on my foot for eight to 10 weeks but me being a typical motorcycle rider, that's eight to 10 hours. I drive motorcycles for a living.
"The bone is quite badly broken on the the inside. I've fractured the inside of my ankle and I dislocated it.
"I've got to rest up, let the healing process do what it can and aim to come back stronger in Assen.
"I'll probably go out cycling because it means I'm not walking. It's a different part of my foot I'll be using. I can't sit around. I've got to do something."
On Saturday, Tech 3 Yamaha said that Crutchlow had sprained his ankle, but on Sunday morning the 26-year-old said he had in fact broken it.
"The doctors at the circuit said if there's any inkling of a fracture, I'm not allowed to race, so we didn't tell them," he added.
"Unfortunately, the hospital called them so I pleaded with them and they made me do a vigorous test. I passed and they asked if I want to race - and I said yes."
The decision proved inspired as he made up nine positions inside two laps and then fought his way up the field, closing down a seven-second gap to the next rider at one stage, to finish sixth and move up to fourth in the drivers' standings.
"The result gives me confidence because I was as fast as the guys in front and matching Jorge Lorenzo," he said.
"We did a great job, I finished sixth, moved up to fourth in the championship with a strong ride but, don't get me wrong, I'm annoyed I wasn't on the front row and challenging Lorenzo for the win.
"Could I have won the race? Probably not? But I would have put up a strong challenge. The podium was the target and I had the pace to do it.
"The positive thing for me is that I was running at a consistent pace when out in clear air, which is something we've struggled with since last year (when he joined the team) so that's encouraging for the future."
The Assen MotoGP takes place on 30 June and is the first of three races on successive weekends.