How Cal Crutchlow was inspired by the Silverstone fans
By Azi Farni
BBC pit-lane reporter
Last updated on .From the section MotoGP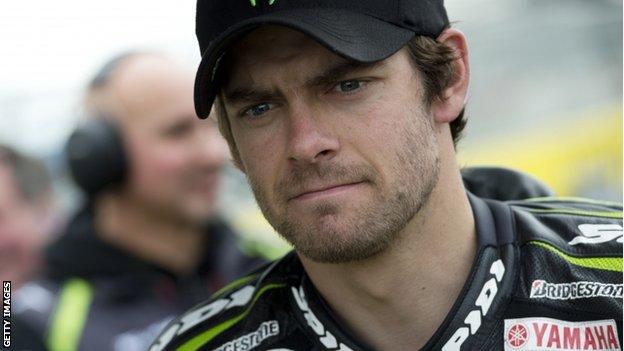 In the weeks leading up to the British Grand Prix at Silverstone all the focus was on Briton Cal Crutchlow and that first MotoGP podium which was surely going to come at his home round.
The eventual sixth, after a stunning charge from the back of the grid, was the end result of a crash in Saturday morning practice and a heroic fight against a dislocated ankle to make the starting grid.
Crutchlow's determination to start the race against medical advice was in no small part inspired by a desire to put in a worthy performance for the thousands of spectators supporting him around the track.
"When I was lying in the gravel all I could think was the British fans weren't going to see me ride in my home race again," he said.
"Their support helped me a lot and I hope they went home proud of the job I did for them."
Both commendable and crazy, it shows the fine line between the extra motivation and pressure a home race can bring.
In the MotoGP era half of all races by British riders in the British GP have ended with a DNF, with only three top ten finishes in 14 attempts - for Neil Hodgson in 2004, James Toseland in 2009 and Crutchlow last weekend.
Jeremy McWilliams, the last British rider on a premier-class podium back in 2000, remembers well the pressures of a home GP: "It was the worst time of the season for me. There's enormous pressure even in the build up to it. You get butterflies in your stomach a month before thinking about the British Grand Prix.
"It gets worse as you get closer to the event by the media attention and all the phone calls. You end up trying to avoid any sort of contact that gets you into the conversation because once you get into the conversation you immediately take note of the expectation that comes next."
Though that podium had come at his home GP, at Donington in 500cc, it was his fifth attempt in the premier class after a string of DNFs.
"I just hated the British Grand Prix, I never did well at it. Then the big relief came when I got a third at Donington and that was only because the conditions seemed to suit me, that was it."
The home GP is always the most covered in any country and with over 50 extra national media present at Silverstone last weekend there was a lot more demand for the British stars.
McWilliams, commentating with BBC radio 5 live at Silverstone on raceday, still remembers the extra media demands for a local rider.
"I think Cal had done about nine or ten hours of media before Friday came along. Bradley Smith told me that the worst thing is that with the interviews you have to say the same thing over and over again, it´s the same questions and the same expectation.
"It's a plausible question 'it´s your home GP do you want to be on the podium or win the race?' but that's just more pressure piled on and how do you answer that? 'Yes of course I´d love to be on the podium, of course I'd like to win the race.' Over and over and over again, it´s just not a nice place to be.
"It's physically and mentally tiring just being there, trying to go from A to B, being dragged about from pillar to post and told you've got to be here at a certain time because you've got to fulfil that obligation.
"Of course it´s going to be difficult. It´s not really any easier when you get into the motorhome at night and you close the doors and put the tv on.
"It still hangs over you and you wake up in the middle of the night in cold sweats. That´s just the nature of racing at your home GP. It´s part of what you've got to go through, it's part of what you signed up for but it's certainly not an easy job."
In the end Crutchlow's result was bittersweet, the stunning ride that saw him climb 14 positions and match race winner Jorge Lorenzo's lap times in places suggests a podium fight would have been on the cards had the 26 year old been able to get himself a decent starting position.
"I suppose when Cal looks back at that they'll be a little bit of frustration because there's a chance he might have been able to fight right at the front," said McWilliams.
"But you can't look at it like that, you've got to take the positives out of it and the positive was that he came all the way from the back row of the grid with a bust ankle, and finished sixth and actually moved himself up one championship position which is more than he could have wished for on Saturday evening."
With the home GP out of the way, McWilliams believes Crutchlow can now get back to his fight for a first podium without distraction.
"He knows it's going to happen. Where it's going to happen is anybody's guess. It made it more difficult that the expectation was that it was going to happen at the British Grand Prix.
"I think just let him get on with the job that he's got and over time it'll come. He's getting better every race and this time next year there's a good chance he will be on the podium consistently and maybe winning races but there's no magic solution to that.
"We can't tell if that's what he's going to do but let's just support him and hope it happens."