MotoGP: Cal Crutchlow is a man in demand - Steve Parrish column

By Steve Parrish
BBC motorcycling commentator
Last updated on .From the section MotoGP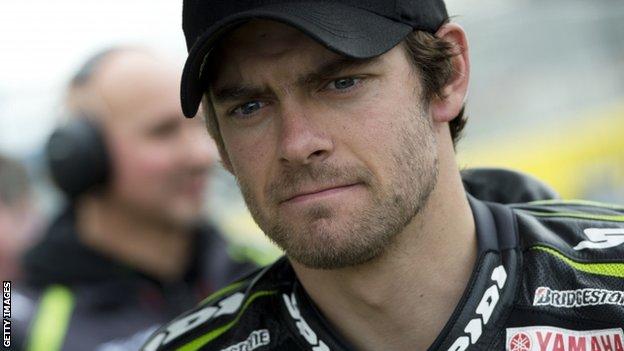 MotoGP heads to Assen for the Netherlands Grand Prix this weekend with Cal Crutchlow's future the hottest topic in the paddock after his extraordinary performance at Silverstone a fortnight ago.
Crutchlow broke his ankle and missed qualifying, but then battled through the pain and the barrier of starting last on the grid to finish sixth at his home race.
We have been saying all season that a podium finish is just around the corner but that race was as good for his reputation as a third-placed finish, because everyone took note of his determination in what was a quite remarkable ride.
There is no question that he is a man in demand - the big question now is where he will end up for next season.
The latest rumour is that the factory Ducati team want him.
That would be a huge move into a major team, but he is outperforming the Ducati every week at the moment on his Tech 3 Yamaha so it would be a gamble.
Cal has got common sense and will use any talks with Ducati as leverage because he wants to stay with Yamaha. But riding for Ducati could be an extremely successful gamble if he made it work.
It would be a very lucrative move and as a factory rider you get what you want. Whatever you say goes.
If Tech 3 offered him a deal to stay where he is for another year or two right now, I think Cal would take it. But he would be silly not to see what Ducati have to offer.
I'm not sure the Ducati is as bad as it looks. Casey Stoner won the title on it in 2007 and has so far been the only man able to ride it successfully. Stoner is brilliant but I find it hard to believe the bike cannot be mastered with all the money and resources available to Ducati - it's not really all that long ago it was regularly winning races.
As for Cal's immediate future, he rode at Silverstone and has had two weeks preparation since, so he should be close to full fitness at Assen this weekend.
He's been in the hyperbaric chamber in the Isle of Man and has had all the treatment he needs so he should be OK.
Viewers should remember, by the way, that this weekend's race is on Saturday, a long-standing tradition at Assen. It's the only grand prix that is still going from the start of the sport in 1949 and race day has always been on a Saturday.
So far this year, Jorge Lorenzo has stood up bigger and better than anyone expected. He's raised his game, but I still back Casey Stoner to win the championship.
Stoner has got a strong second half of the season left in him and I cannot imagine he and Honda will want to end their partnership without winning. It should be a great championship and it will go right to the wire.
Steve's Assen predictions:
1. Jorge Lorenzo 2. Casey Stoner 3. Dani Pedrosa
Steve was talking to BBC Sport's Tom Rostance