MotoGP: Steve Parrish on Casey Stoner's struggles

By Steve Parrish at Mugello
BBC motorcycling commentator
Last updated on .From the section MotoGP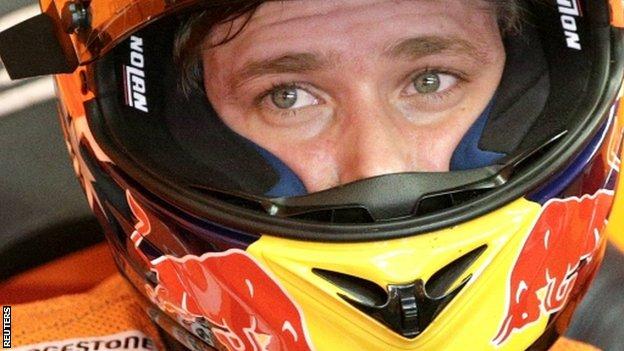 Nine races in, nine races to go - it's half-time in the MotoGP season and reigning champion Casey Stoner has got it all to do.
Lorenzo had the pace, he looked like he'd had it all weekend and nobody could live with him on race day.
Lorenzo is on a roll but let's hope that Stoner doesn't chuck the towel in after he was only eighth at Mugello.
It was a new experience seeing him struggling on the Honda this weekend, halfway through qualifying he was down in 12th place which is unheard of.
They had some major handling issues but you can't just keep saying that. Between the rider and the rest of the team you have to get those issues sorted.
Dani Pedrosa is on the same bike in the same garage and has got it sorted so Casey has got work to do.
His riding style is hard on the bike but he was like a bear with a sore head all weekend.
It's his last season before he retires and you just don't know, if it gets to the point when he can't win the championship he could just say he's had enough and walk away from it.
I hope not, and I doubt he would be that unprofessional, but he would have nothing to lose.
He's not out of touch at the moment but 37 points is a long way back. I still believe that on his day with a motorbike that is doing what he wants it to do, he is untouchable.
The teams are all testing at Mugello on Monday, and Ducati are staying for another three days after that, so we could see some changes at the next race at Laguna Seca.
The worst-kept secret in the paddock is out in the open now as Marc Marquez has signed up to replace Stoner in the Repsol Honda team.
It's hard to say what we can expect from him at such a young age but he is a brilliant rider and he can look at Stefan Bradl to see that it is possible to be competitive as a rookie.
Bradl was fourth here in Italy and he has been excellent for the last few races. Marquez can be wild and leary and he will be exciting to watch, he is a good addition to the paddock.
But he can not replace Stoner, who has been an outstanding rider and has now got nine races left to show that again. We'll see what he's got at the next race at Laguna Seca on 29 July.
Steve Parrish was talking to BBC Sport's Tom Rostance