MotoGP: Steve Parrish backs Casey Stoner to shine in California

By Steve Parrish
BBC motorcycling commentator
Last updated on .From the section MotoGP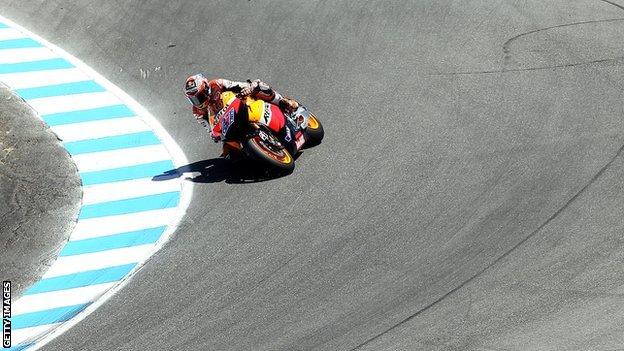 Casey Stoner is the fastest man alive on two wheels when the bike works for him. He's got to get it together, but when the bike's right he's unbeatable.
MotoGP heads now to the United States and Stoner has to start winning, and he's capable of doing so. He has to work with Honda and his engineers to give him the motorcycle that can do it.
He's a determined, angry young Australian who would like to retire as a champion.
These are hugely powerful motorcycles. Laguna Seca is the shortest, tightest track we go to. It's got no real straights. Riding these massive bikes is a bit like having to ride a racehorse round a paddock.
Riders are going to struggle. It will be hard, hot work. It will be down to the person who is able to tame their huge, powerful motorcycle and get it round this small track.
Best equipped as a racer, if his motorcycle works, is Casey Stoner. That's who I'd put my money on, though it depends how the bike comes out the back of the container and how he adapts to it.
Stoner has won rounds in California before. He's on a very good bike when it works. I think he's the man to do it, but he will be kept very honest by Jorge Lorenzo.
We'll get good crowds at Laguna Seca, more than we will at Indianapolis where they're more into their NASCAR and IndyCar racing. We'll get pretty big numbers because it's such a terrific venue to go to.
The Corkscrew is one of those corners you can't really see on TV. It's like a ski jump. It rises up through the Monterrey mountains then it drops at a hugely steep angle. You can barely walk up or walk down it. It's massive and as it drops down it goes over the crest of the hill and it turns left, then it drops to the right then it turns left so it looks like a corkscrew at a very steep angle.
You come completely blind to the top of the hill, the weight goes off the motorcycle as it takes the weight away from you, a bit like a humpback bridge. Then you fly.
It's so spectacular. If you like golf you need to go to Augusta. In motorcycle racing you need to go and stand at The Corkscrew.
Leguna Seca has to be on your so-called 'bucket list'. It a place that you need to go to.
It's in the beautiful, wine-growing region of California with Pebble Beach Golf Club and Clint Eastwood's manor just up the road. It is a terrific venue and I would suggest to anyone missing two other races and saving up to go there.
Steve Parrish was talking to BBC Sport's Jimmy Smallwood.