Scott Redding tests Ducati MotoGP bike
By Azi Farni
BBC pit-lane reporter
Last updated on .From the section MotoGP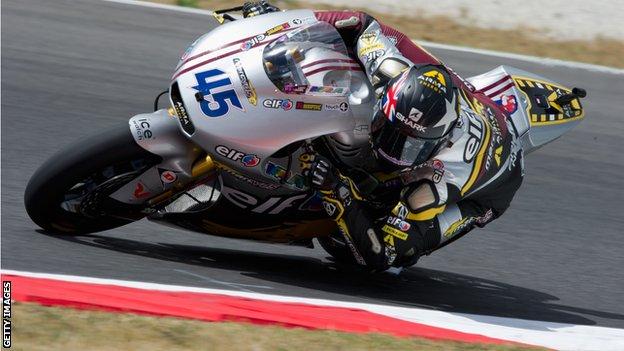 Moto2 rider Scott Redding believes the MotoGP bikes "suit him more" after testing the Ducati in Mugello on Wednesday.
The 19-year-old Briton was testing the latest versions of the Desmosedici GP12 development bike.
"It was hard but fun and definitely more than I expected," the Marc VDS Racing rider told BBC Sport.
"Some things were easier, like the cornering, the hardest thing was trying to get around the traction control."
He added: "The main problem was the speed at the end of the straight, I wasn't expecting it to be so fast."
As one of the tallest and heaviest riders in the Moto2 class, Redding has a big disadvantage over his rivals and a move to MotoGP seems the logical step.
"I think it suits me more to be honest. I's the first time I've ridden anything bigger than a Moto2 so it definitely took a toll on the body, more than I expected, but in the end I enjoyed it," he said.
"I made my target lap time and I felt comfortable. I think it's the direction I need to go in."
Redding did a total of 127 laps over the two days of testing, and his best time was an impressive sub one minute 50 seconds on hard tyres.
Factory Ducati rider Valentino Rossi did a best of 1:48.4 during the Mugello race in June.
"[Ducati Corse general director] Filippo Preziosi seemed pretty happy with the lap time and my enthusiasm, I just kept going at it and going at it. I think they were happy with how I've performed over the two days. I've done all I can do," added Redding.
Moto2 rival Andrea Iannone is testing the bike from Thursday and Ducati team manager Vitto Guareschi has confirmed the possibility of both riders riding in a satellite outfit from 2013.
"They are two young, strong riders that are doing very well in Moto2," he said. "We want to make a satellite team with strong, young riders and it seemed a good time to test with them."
Nine-time world champion Rossi, who himself has had a difficult two-year spell with Ducati, has also given his backing to Redding.
"The Ducati guys asked my advice about young riders for the future and I spoke about Iannone, but also Redding has high potential," he said.
"He is the English hope after Cal [Crutchlow] and he has good potential, is young and can be fast."