MotoGP: 'Valentino Rossi will be back on the podium regularly'
By Steve Parrish
BBC motorcycling commentator
Last updated on .From the section MotoGP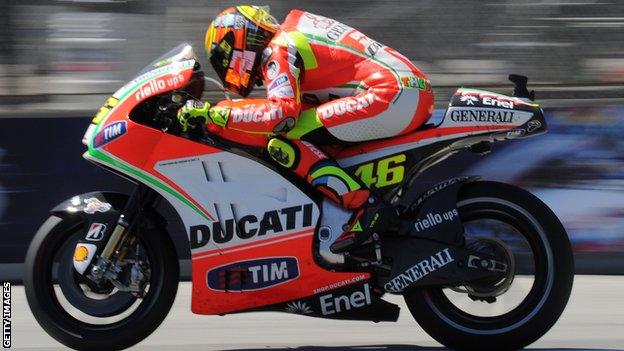 The racing returns at Indianapolis this weekend but there's only one name on everyone's lips - Valentino Rossi.
It has been a bit embarrassing watching one of the greatest riders of all time trawling round in eighth and ninth place, so while I do feel sorry for Ducati - who have worked hard to get things sorted - Rossi's return to Yamaha is great news for the sport.
I expect him to be back on the podium regularly and in the hunt to win races again which, with Casey Stoner leaving the sport at the end of the season, will be much needed.
However, he will return to Yamaha in the full knowledge that he will be number two to Jorge Lorenzo. I imagine that was made painfully clear to him during discussions.
The idea of Rossi being number two in a team - particularly a Yamaha one which he put back on the map by winning four titles for them - is one that is hard to imagine, but Lorenzo is the top dog and with Stoner gone the Spaniard will be expecting to dominate.
The two of them did not get on too well last time they were team-mates and it will be fascinating to see the dynamic this time around.
Rossi will have to change his attitude. He has signed a two-year deal, which will take him to 35, and I'm sure he will call it a day after that.
If he can challenge for wins over the next two years, then he will be happy to leave on that note. He didn't want to retire with everyone remembering him as a failure on the Ducati.
Don't forget that he hasn't won a race in nearly two years.
Lorenzo told BBC Sport this week that their relationship has improved - but watch this space.
What also is interesting is where Rossi's move leaves Cal Crutchlow for next year as a few weeks ago it looked like the British rider was going to partner the Italian at Ducati.
But with Rossi going, Cal's current team-mate Andrea Dovizioso looks favourite to take Rossi's place in the Ducati team. The best bet for Cal could now be to stay at the Tech 3 Yamaha team for another year, but whether he will or not I don't know.
Back to the present, Stoner was back to his absolute best in winning at Laguna last time out and he has had some strong words to say about Rossi going back to Yamaha this week.
When Casey is happy with his bike he is pretty much unbeatable and I can see him winning again in Indianapolis this weekend. That would make the title race very interesting indeed and I can see it going down to the last race of the season in Valencia.
Let's hope so and I just can't see Stoner walking away from the sport without fighting tooth and nail to go out as world champion.
Steve's Indianapolis prediction:
1. Casey Stoner 2. Jorge Lorenzo 3. Dani Pedrosa