MotoGP: Casey Stoner is an inspiration, says Steve Parrish

By Steve Parrish
BBC motorcycling commentator
Last updated on .From the section MotoGP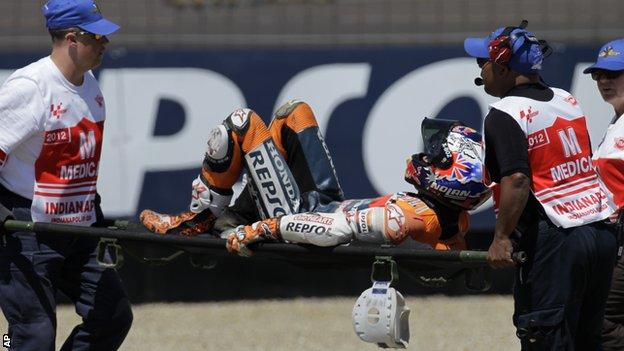 Casey Stoner's decision to race in Indianapolis, despite the injuries he suffered in qualifying, proves that he is determined to finish on a high.
We didn't expect he was going to ride, but he did and he has kept himself in the championship because he got 16 points and Jorge Lorenzo did not get the maximum 25.
I think if Stoner had not been able to ride then it would have been a tough task for him to keep in the championship race.
You have to give him credit because he has already announced he will retire at the end of the year, he has cracked bones in his ankle and did some serious damage there, but still went out to race.
For me that proves he is not just packing in the sport, he really wants to win this championship. He wants to retire as number one.
It was a very nasty accident he had and it would have been very easy for him to choose to just sit it out, because he is retiring at the end of the year.
But he chose to go out and race and that proves he is still determined to finish on a high.
For me it has been inspirational to see him go out there because they literally had to lift him onto the bike and then lift him off it.
People think they just need to sit on a motorcycle but they don't, you move around a lot and use your legs a great deal. It was clear by the end of the race he was completely exhausted and had to be carried off it.
I think he would have won the race without that crash. Ifs and buts don't count but if he had won it he would have taken a really big chunk out of Lorenzo's lead.
I am pleased for him, but perhaps more importantly Dani Pedrosa, who has been a bit under the radar, is now only 18 points behind Lorenzo. Honda will now be throwing everything at him to win the championship.
He has always been an incredibly fast rider but he has been somewhat thwarted by injuries. Until you stand beside Pedrosa I can't begin to tell you how small and fragile he looks.
But at the moment he is having his best-ever season and we are well past the halfway stage, so he is in with a big shout.
Anything could happen between now and the end of the season. Lorenzo could crash next weekend. As we have seen with Casey, the potential for injury is always just around the corner in motorcycle racing.
It was also a shame to see Ben Spies retire on Sunday.
I don't know what he has done to deserve it because I have never seen anyone have more much bad luck this season than him.
In the last two races he has had mechanical problems.
The suspension broke in Laguna Seca and the engine broke in Indianapolis. Those are both things that just do not happen because the reliability these days is just so good.
Ben looked very, very strong and I think he could potentially have won the race. He proved on Sunday that he is still one of the fastest guys out there.
He will be devastated by what happened because he will have wanted to show in his home race that he is still a potential winner.
But there is a long, long way to go this season and still a lot of points on the table.
Steve Parrish was talking to BBC Sport's Gary Rose.