Cal Crutchlow's MotoGP podium is 'a major breakthrough'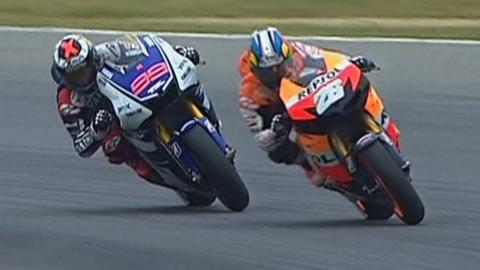 After 12 years of waiting, we have had a major breakthrough for British Grand Prix racing with Cal Crutchlow's podium in Brno.
It was a cracking race. Dani Pedrosa and Jorge Lorenzo fought hard for the win and produced some brilliant viewing, which went right down to the last corner.
They had a terrific battle. The championship has closed up with Pedrosa's win and Cal being on the podium was the icing on the cake.
We have been talking about Cal finishing in the top three for months.
He started the season so well that it looked like a formality and it is a monkey off his back now.
He signed a new contract to stay with his Tech 3 Yamaha team this week so he knows what he is up to and he can focus on his racing now. He's had months of speculation to deal with and as much as a rider says that it doesn't affect them, it has to affect your preparations - it plays on your mind.
Cal rode a faultless race and, most importantly, he got back to beating his team-mate Andrea Dovizioso.
but now he has reversed that and long may it continue.
Finishing third is a big step but wins are the most important, we all know that.
That's his next goal. It has to be. He has got on the bottom step of the podium, which is a terrific achievement, but his next target has to be the next step up.
That will take a fair bit of doing, but a run of podiums is not impossible and would put him right in the picture.
British riders in MotoGP are like buses at the moment, as now we will get to see Jonny Rea at the next few races.
The Northern Irishman is racing in World Superbikes but
I think he should have been here at least a year ago and while it is a tough call to jump straight in, there are plenty of riders who would cut their arm off for a go on Stoner's bike and he has got that chance.
He has to approach it in a careful, methodical way, but he is a really fast young rider.
He should be in MotoGP and this is his chance to prove it.
He has only got to look across the pitlane at Cal to see that it is now possible for a British rider to taste some success in the big time.
Steve Parrish was talking to BBC Sport's Tom Rostance