MotoGP: Casey Stoner tipped for success in V8 Supercars

By Steve Parrish
BBC motorcycling commentator
Last updated on .From the section MotoGP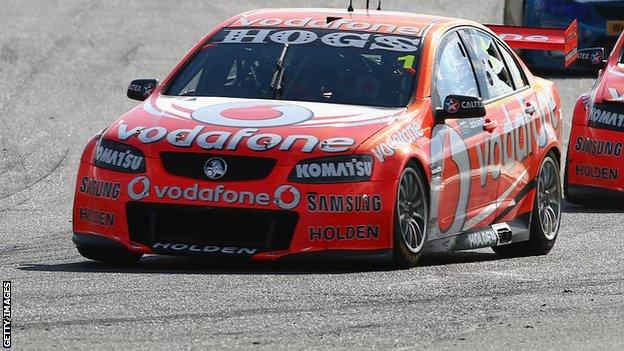 Ever since Casey Stoner I have been scratching my head wondering just what he would do next.
As a former bike racer myself, I knew full well that Stoner would have to find an outlet for his talent and desire to race - especially as he is only 26 years old.
Well in the last week or so we may finally have been given an answer, as Stoner looks at
He will probably have some time off first but it looks like he will be back on a grid soon enough, and unsurprisingly the consensus is that he will do very well.
I've been speaking to a few MotoGP riders and people who have worked with him over the years and they all believe he will be a success. He has a natural feel for racing and amazing ability which he can transfer to anything he wants to.
Most motorcycle racers who have done well have transferred their skills across to car racing when they've tried it.
You can go back to John Surtees of course, who won titles on two and four wheels. Mike Hailwood was a terrific car racer, while Johnny Cecotto won loads of championships and got into Formula 1. Even I gave it a go, trying truck racing after I'd retired.
I found it easier - for a start it's a lot safer on four wheels than two and for Stoner and his family that will be a big deal. The V8 Series is all based down the east coast of Australia so the maximum travelling time he is probably facing is a few hours on a plane. He'll be home every Sunday night, which after 10 years or so of constant long-distance travelling will be a huge difference.
He will get a good drive I'm sure, as win or lose he will be guaranteed publicity over there.
Whether he will get the same satisfaction from it I doubt, as he hasn't totally fulfilled his career in MotoGP. But it will be a better lifestyle for him.
There will be a lot of people who want him to fail as none of the car driving guys will want him to come over and show them up. But that is only natural.
I for one am looking forward to seeing how he gets on.
Back to the present, and the sting was taken out of the championship last time out but all he can do now is win races.
It is not at all impossible that Jorge Lorenzo's engine could blow up in Aragon this weekend or someone could take him out but the odds are stacked in his favour now with five races left.
He will be looking over his shoulder going into the first corner of every race, that's for sure. But if he finishes every race now the title is as good as his.
The other bit of news this week is that
He looked at all his options but the team that could maybe have offered him a ride in MotoGP - Gresini Honda - are sponsored by a company whose market is Spain and Italy.
I get the feeling that they want a Spanish or Italian rider and you can understand that. Sponsors pay the bills, and sometimes your passport counts.
Steve's Aragon predictions:
1. Dani Pedrosa 2. Jorge Lorenzo 3. Andrea Dovizioso
Steve Parrish was talking to BBC Sport's Tom Rostance