MotoGP: Dani Pedrosa puts the pressure on Jorge Lorenzo

By Steve Parrish
BBC motorcycling commentator
Last updated on .From the section MotoGP20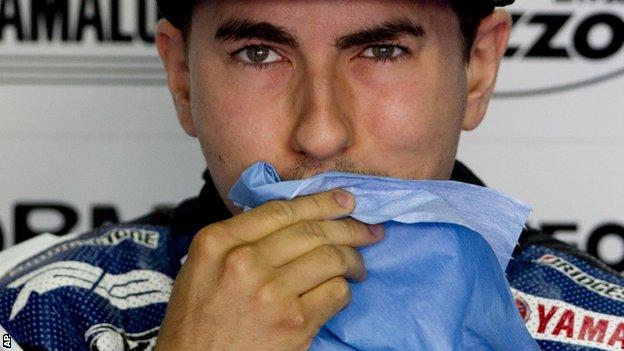 With Jorge Lorenzo holding a 33-point lead at the top of the MotoGP standings with just four races left, the pressure will really be wound up in Japan this weekend.
On the face of it, he is a huge favourite to win his second world title. He has not finished out of the top two in a race all season, and if he keeps that up the championship is his.
But pressure can do funny things to a sportsman. America's Ryder Cup golfers can tell you that.
Dani Pedrosa may be back in second in the standings but truthfully he is in stunning form. He will take an awful lot of beating this weekend, he is on a roll.
I can't imagine that Jorge isn't nervous, and as long as it is possible for Pedrosa to still win it, he will fight for it.
Maybe that's my optimism talking as I'd love to go to the last race in Valencia with the title still to be decided - but until it is won, it is all to play for.
We seem to be forever talking about Casey Stoner and it will be very interesting to see how he gets on.
He could be the fly in the ointment for Lorenzo and Yamaha, and he can help his Repsol Honda team-mate Pedrosa out massively.
Lorenzo has said that attack is the best form of defence and he will go out there to win. But the faster you go the more you increase your chances of crashing out, which would be disastrous for him. Pedrosa and Stoner have nothing to lose.
Stoner has said he is looking forward to coming back and seeing his team this weekend - which is strange given that
I've never seen Stoner not race to win. These are the last four races we can see Stoner race. Don't miss it.
Away from the track, I'm quite excited about
We were starting to get a grey area between the two formats and this gets rid of that and gives the organisers the chance to bring down the cost of MotoGP.
It won't detract from the racing in either class and means more teams can afford to compete. That can only be good news.
Steve's Motegi predictions:
1. Dani Pedrosa 2. Casey Stoner 3. Jorge Lorenzo
Steve Parrish was talking to BBC Sport's Tom Rostance