MotoGP: Casey Stoner says his ankle injury is getting worse
Last updated on .From the section MotoGP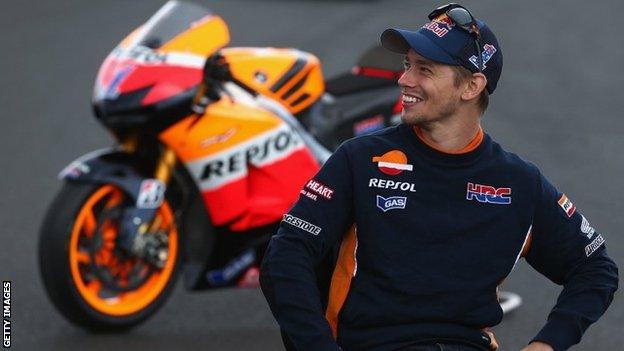 MotoGP world champion Casey Stoner has admitted he is struggling for fitness ahead of his final home grand prix in Australia this weekend.
Stoner, 27, is and is aiming to win at Phillip Island for the sixth straight year on Sunday.
He said: "My ankle is definitely worse than when I came back in Japan.
"I'm having a lot more trouble with it day to day, just getting around on it at all."
Stoner has no chance of retaining his title this season after missing three races following a crash in Indianapolis.
The Australian in the accident but has won every race at Phillip Island since 2007.
Stoner had Turn Three of the track named after him this week but is not sure that he will be able to keep up his winning streak, despite a strong third-placed finish at
He said: "We've really struggled with the bike set up in the past two races and I'm pretty disappointed with this. We always seem to find our rhythm in Phillip Island but I don't expect it to come easily this year.
"Thankfully the track goes to the left and we're having a lot less issues with chatter when it goes this way. Also there aren't so many sharp turns so my right leg might be able to deal with it a little better
"I'm still nowhere near 100% physically and I still need time to be back to full strength so I'm not really sure what to expect this weekend.
"We'll do our best and see what happens."
Jorge Lorenzo can win the championship with a win this weekend, while Stoner's Repsol Honda team-mate Dani Pedrosa is also in the running.