MotoGP: Cal Crutchlow has done 'an amazing job' - James Toseland
Last updated on .From the section MotoGP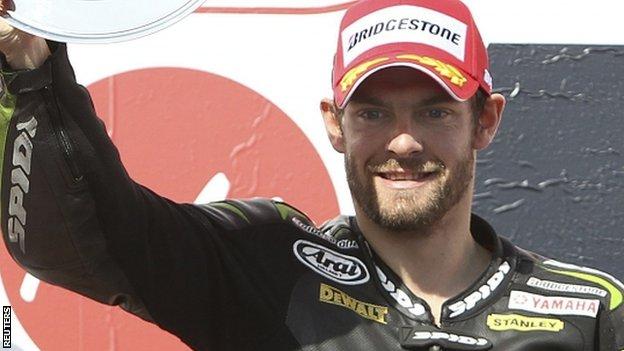 Cal Crutchlow can expect to consistently challenge for top-three finishes in MotoGP next season, according to former rider James Toseland.
Toseland told BBC Sport: "Cal has done an amazing job.
"He's got a good opportunity next year to get consistent podiums. He can be a success and keep the momentum going."
Toseland raced in MotoGP for two years for Tech 3 Yamaha, recording a best finish of sixth, before leaving to return to World Superbikes in 2010 where he was team-mate to Crutchlow.
Crutchlow then moved into MotoGP at the same Tech 3 team in 2011, and after a hard debut year made the breakthrough in 2012.
from racing last year, and he has backed Crutchlow to add to his two podium finishes next year.
Toseland said: "There are only five or six bikes that you would want to be on and he is on one of them. The others haven't really got a chance.
"I wish him all the best.
"He found it difficult in his first year but as soon as the engines increased to 1,000cc for 2012, he has been right up there. It is all about getting a break at the right time and he has done that."
Crutchlow will be joined at Tech 3 by fellow Briton and Toseland believes Smith faces a tough test in moving up from Moto2.
"It's great to see an all British team after years of not having any riders at all," Toseland said.
"But it is a massive jump up from Moto2 to MotoGP. It's a huge challenge, we will see how he gets on. Bradley has to just chip away and improve race by race."