MotoGP: Suzuki in talks to return to the sport in 2014
Last updated on .From the section MotoGP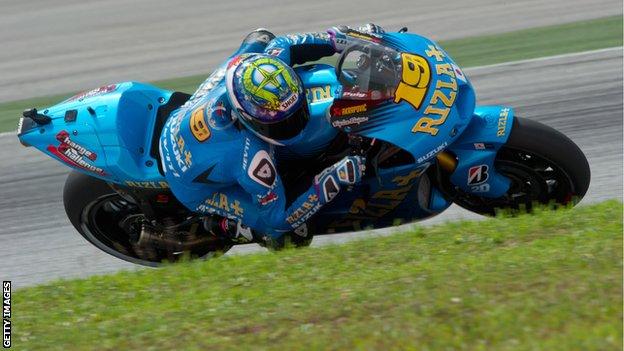 Suzuki could make their return to MotoGP in 2014 after asking to take part in some testing next season.
The Japanese manufacturer pulled out of the sport
But Carmelo Ezpeleta, head of rights holders Dorna, says that he is in talks with Suzuki over a comeback.
He told BBC Sport: "They are asking us to have some testing during the 2013 season and if everything goes well maybe we will see them in 2014."
Suzuki had competed in motorcycle grand prix racing for 37 years before they left at the end of last year.
Their withdrawal left just Honda, Yamaha and Ducati as manufacturers in the sport, but Ezpeleta is not convinced that the grid needs more factory teams.
He told BBC Sport: "Nothing is agreed yet but this is not our main issue.
"We have three manufacturers at the moment in Honda, Yamaha and Ducati. If Suzuki are in we have four, and that would be the same as Formula 1, so it is not a big problem.
"The main thing is to have more competitive races. If we can do that with more manufacturers than all the better, but having competitive bikes is the key."