MotoGP: Michael Laverty shocked to get ride with PBM team
By Azi Farni
BBC pit-lane reporter
Last updated on .From the section MotoGP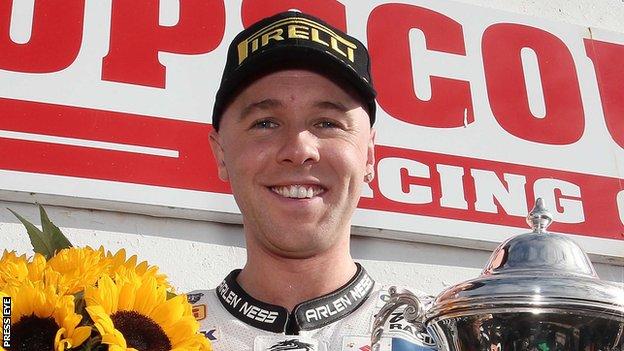 Michael Laverty has admitted his surprise in landing the Paul Bird Motorsport CRT ride in MotoGP in 2013.
The British Superbike rider said: "I'm a realist. Once you pass your mid-20s you think that if you haven't got to GP by then, it´s not going to happen."
Laverty will ride a custom-made British built PBM chassis with Aprilia engine, while his partner Yonny Hernandez will ride a full Aprilia ART package.
Laverty has ridden for PBM in British Supersport and British Superbikes.
He accepted the MotoGP ride after 2012 British Superbike champion Shane Byrne declined.
"I know I wasn't first choice for the ride, Shakey was," said Laverty, 31. "When he turned it down I was surprised to get the call, but it was a nice surprise."
"It's nice to be in a completely British project and it sounds very interesting on the PBM side of the garage.
"The chassis is developed by the GPMS guys who used to build all the chassis for the Kenny Roberts team and they've built a lot of Superbike swingarms and chassis parts over the last few years so they've got a lot of experience.
"They will be bolting an Aprilia engine into that chassis and then the Magneti Marelli control ECU which will be used by some teams next year and will then be obligatory in 2014."
Laverty´s predecessor at PBM, James Ellison, struggled to compete in 2012 against the Power Electronics Aspar team, who benefited from receiving all the latest ART parts first, but Laverty expects a closer relationship between PBM and Aprilia next year.
He said: "For the PBM project I think they have committed to four of the latest spec engines, which is what James had at the very end of the season.
"Aprilia will have in mind that from 2014 they are going to have to run the Magneti Marelli system, so it's useful for them to have another team using it as it gives them a lot of data.
"They seem happy to help the team sort out the engine management with the Magneti Marelli system so overall I think the relationship with Aprilia is quite good."
Laverty will be one of only two riders with no previous Grand Prix experience on the 2013 MotoGP grid, alongside Gresini Honda CRT's Bryan Staring, and is under no illusions about the task at hand.
"I'll have a lot to learn in MotoGP - half the circuits will be new to me, I'll have new brakes and tyres, a new type of chassis, a new grid of competitors."
With the first 2013 MotoGP test due to take place at Sepang in the first week of February, the northern-Irish rider is excited to make his Grand Prix debut.
"I just want to get out there, there´s a lot of learning to do and it looks quite a tough circuit to learn. I can't wait to get going," he enthused.