Repsol Honda unveil new bikes for 2013 MotoGP season
Last updated on .From the section MotoGP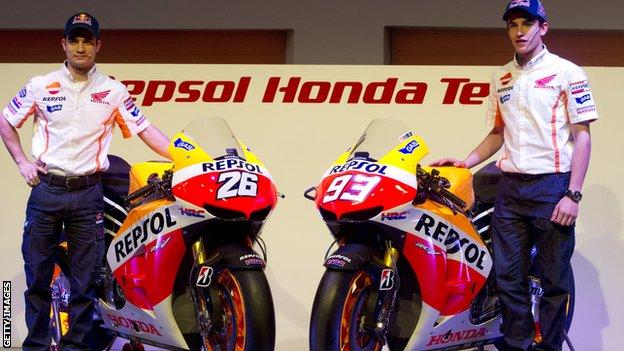 Repsol Honda officially unveiled their new bikes for the 2013 MotoGP season on Wednesday, while also confirming a new management structure.
Livio Suppo has been announced as new the team principal, while the RC213V bikes have undergone minor redevelopments from last season.
The bikes are described as having a bit more power and better fuel efficiency.
Dani Pedrosa, 27, and rookie Marc Marquez, 19, are the team's riders for this season.
The pair will get their first outing on the bikes when they head to Malaysia for testing in February before the season opener in Qatar on 7 April.
Pedrosa, who is entering his eighth season in MotoGP, won seven races last season and is hoping to build on that this season.
"I hope I can take up where I left off last season, with the same energy, strength and confidence," he said.
"I have been training well and I hope to arrive at the first race in good shape."
Marquez, meanwhile, has stepped up from Moto2, replacing the retired Casey Stoner.
"There are high expectations and I am grateful that [the team] have this much confidence in me. It is important for a rider," he said.
"This year will be a new experience for me, an apprenticeship, and I will have to take it one step at a time.
"Stoner was always very quick and to be able to replace him is a privilege. But in the end I am me, not him."