MotoGP 2013: BBC pundits give their season predictions
Last updated on .From the section MotoGP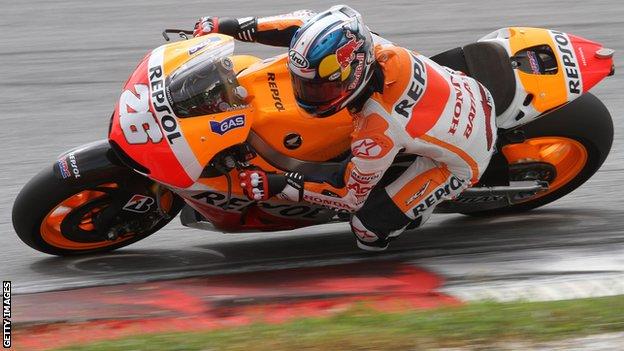 Jorge Lorenzo begins the defence of his MotoGP title in Qatar this weekend, with the Spaniard facing stern opposition as he looks for a third title.
Lorenzo pipped compatriot Dani Pedrosa to the crown last year, and Pedrosa's form in pre-season testing suggests that the title fight will be close again.
There is also the return of Valentino Rossi to Yamaha to look forward to, as well as the arrival of highly-tipped rookie Marc Marquez.
BBC Sport commentator Steve Parrish, pit-lane reporter Azi Farni and presenter Matt Roberts gave their views on the new campaign.
Who will win the title this year - and why?
Matt Roberts, BBC MotoGP presenter: "My money is on Dani Pedrosa. He was the form rider in the second half of the championship last year and Honda have a great package. If he can hold everything together and steer clear of injury, I'm backing him to finally do it."
Steve Parrish, BBC MotoGP commentator: "Dani Pedrosa. The Honda is the best overall package, his form at the end of last year was stunning and I think he has a more aggressive attitude since he inherited the number one position in the team.
"He has been runner up too many times. Now is his time."
Azi Farni, pit-lane reporter: "It's a hard one to call this year. Lorenzo, Pedrosa, Rossi and possibly even Marquez will all be in contention, but I think it will be just Lorenzo and Pedrosa at the end.
"Lorenzo is Mr Consistency, but I think Pedrosa has the edge coming into this season. It's now or never for him to get his first MotoGP title."
What is new for this year?
Roberts: "From the viewers' perspective the biggest change is to the qualifying format. Instead of the solid hour that we had in the past we will have more of an F1-style knockout format that should be really entertaining.
"We'll also be live on either BBC One or BBC Two for the majority of sessions so more fans than ever will be able to enjoy it, which is great."
Parrish: "The new qualifying system, which I am very excited about - it will liven up our Saturday shows! Each rider has just five instead of six engines to get through the year, which could play a part in the results at the end of this season - and the amazing Marc Marquez.
"The 20-year-old has replaced Casey Stoner in the Repsol Honda team and is very, very quick."
Farni: "Rossi is back in contention. "The Doctor" has slipped back into life at Yamaha as though the last two disastrous years at Ducati never happened.
"Whether he can sustain a title fight remains to be seen, but the fact that Rossi is back at the pointy end of the pack can only be good news for the championship."
Can Cal Crutchlow challenge for podiums again?
Roberts: "Absolutely. Even in the absence of Casey Stoner, his task will certainly be no easier as a result of the arrival of Marc Marquez and with Valentino Rossi back in the hunt on the factory Yamaha. But Cal is more experienced, he is the number one rider in his team now and there's no reason why he can't target more than the two he got last year."
Parrish: "Undoubtedly, I even think he can win a race or two! We don't want to put him under too much pressure and I'm wary of the old commentator's curse!
"If he carries on this form, Yamaha should give him good engine updates."
Farni: "The fact is, that if Cal just repeats last year's feat of two podiums in 2013 it will be a bigger achievement as it's a much tougher crowd this year. Bear in mind that, of the 12 prototype bikes on the grid, only Tech 3 are not factory or factory supported.
"But Cal's been strong in testing and I fancy him to have his best season yet."
Which race are you most looking forward to this year?
Roberts: "Texas. It's the first time in a few years that we have gone to a new track, and the two American events we already have are always special.
"The circuit looked incredible on the television when I watched the F1 last year and I think it will be a great track for racing bikes."
Parrish: "Austin, Texas - the track looks awesome and I can't wait to get there; Silverstone as we are going to be basking in sunshine this year, hopefully, after they moved it to September and finally Mugello, as the Rossi magic is back along with all his crazy fans and the terrific atmosphere."
Farni: "Texas! A new GP always creates a bit of excitement and the Circuit of the Americas looks incredible.
"There has been a lot of positive feedback about the track and its facilities from the riders who have been. And Austin looks like a lot of fun, hopefully we'll get a chance to see the city a bit."