MotoGP 2013: Rossi/Marquez and Pedrosa/Lorenzo duels excite fans
By Azi Farni
BBC pit-lane reporter
Last updated on .From the section MotoGP90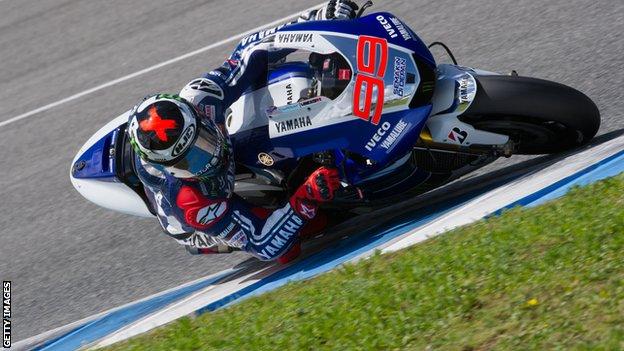 MotoGP is back. Just 147 days after the 2012 season ended in Valencia, the 24 riders return to the grid this weekend for the opening race under the floodlights in Qatar.
With seven-time champion Valentino Rossi back at Yamaha and Marc Marquez threatening to be the fastest rookie in years, it could be the most competitive season for a long time.
BBC Sport pick out five reasons to tune in this weekend.
'The Doctor' is back
It is no coincidence that the question of gained its loudest voice during Valentino Rossi's dismal two years at Ducati.
In his absence, Jorge Lorenzo, Dani Pedrosa and the now-retired Casey Stoner emerged as the three title contenders and, while each pulled out some classic race moments in the last two years, there were few genuine battles to the line between them.
Rossi's return to Yamaha, where he won 46 races and four world titles, will rekindle memories of intense last-lap fights over the years, with the hope his presence back up front will spark a few more of those classic moments.
Pre-season testing appears to suggest Lorenzo and Pedrosa have a firm grip over the title this year, but one thing we have learned since a floppy-haired teenage Rossi won his first grand prix in Brno 1996 is to never discount 'The Doctor.'
His fitness, age and confidence may prove to be stumbling blocks for a genuine title challenge but his motivation to beat his younger rivals and the racecraft he still manages to pull out when the lights go green ensure that there will be plenty of magic moments from the 34-year-old Italian this year. And the king of mind games may yet have a few tricks up his sleeve to ruffle the feathers of the young pretenders.
The Rising Star
Whatever he manages to do this year, there is little doubt Valentino Rossi is nearing the end of his career.
But the transition to a MotoGP world without its charismatic talisman is no longer such a daunting prospect for the sport's organisers.
Enter Marc Marquez, the current Moto2 world champion since Rossi himself back in 2000.
His feats in Moto2 - regularly winning races or finishing on the podium from the back of a grid of 30 or more riders - and his hard-charging riding style, have earned him plaudits from both inside and outside the paddock, with the highest accolade coming from 'The Doctor' himself.
"It is not an exaggeration to say that Marquez is the new Rossi," admits the seven-time MotoGP champion.
The best thing about Marquez graduating to the premier class at such a young age is that we get to see the old versus the new, in a head-to-head that both riders will relish as they set out to prove their worth as the old master and the new blood.
And while their respective team-mates might be the favourites for the crown this year, watch out for Marquez and Rossi creating a thrilling subplot to the season's main show.
Pedrosa's form
Until 2012 Dani Pedrosa looked like he might finish his career with the unenviable title of "the greatest rider never to win a premier class championship." A series of crashes, injuries and plain bad luck marred his first six seasons in MotoGP.
Last year, injury free, Pedrosa lost the title partly because it took him until the eighth round to take his first win. Once he did that though, an incredible run of form saw him take six of the last eight wins. He took seven wins in total, one more than eventual winner Jorge Lorenzo and three more than he had ever recorded in a single MotoGP season.
After a strong first half of the season Lorenzo was able to sit back and play the numbers game, not needing to fight for risky wins and instead just rack up the second-place points to take a second MotoGP title won as much by consistency - he finished only two races outside of the top two - as pure speed.
If Pedrosa's momentum carries through to this season, and then Lorenzo will have to bring the fight to his compatriot from the start. This time consistency may not be enough and that can only be good for the racing spectacle, especially if it produces more races like Brno 2012.
New qualifying format
This year MotoGP have adopted a new F1-style format for qualifying which sees riders seeded into Q1 or Q2 sessions, based on their free practice times, with each 15-minute qualifying session determining the grid positions for the race.
It means we get to skip forward to the most exciting part of qualifying, usually reserved for the last quarter of the session, where the riders actually go out to make the lap times count.
Separating the fastest and the slowest riders ensures more safety by cutting the traffic and decreasing the likelihood of slower riders looking for a tow.
It is also a clever way of ensuring the slower bikes get more television coverage, something the Claiming Rule Teams had complained of previously.
For BBC viewers, extended coverage of MotoGP this season means some qualifying sessions will now be shown on BBC1 and BBC2 as well as on the Red Button, iPlayer and IPTV.
For the first time since BBC acquired the rights to MotoGP in 2003, all practice sessions and all 18 races will now be available to stream live to UK viewers through the BBC Sport website and on your smartphone.
The Great British Hope
You wait 12 years for a British MotoGP podium, and then two come along at once.
Cal Crutchlow emerged last year as the first genuine British hope in MotoGP in over a decade, taking two podiums in Brno and Phillip Island and ending a long drought of top-class success in the UK since Jeremy McWilliams finished third in the 500cc race at the British Grand Prix at Donington Park in 2000.
After a first season adapting to MotoGP from World Superbikes in 2011, Crutchlow raised a few eyebrows in his second year as a string of strong results saw him in talks for a factory Ducati ride by mid-season. That not coming to fruition may prove to be a blessing as he regularly outclassed the factory Ducatis on board his satellite Yamaha.
The sort of lion-hearted racing displayed at Silverstone last year, where Crutchlow finished sixth from the back of the grid with a dislocated ankle, has made him a favourite with the British fans and the cheeky 27-year-old provided plenty of great moments off the track too, regularly winding up BBC's MotoGP Presenter Matt Roberts on the grid before each race.
The good news is that Crutchlow's Yamaha Tech 3 team will be Team GB this year as fellow Briton Bradley Smith makes the step up from Moto2. Like Cal before him, Smith has the benefit of a two-year contract, giving him time to learn his trade.
The Oxford born 22-year-old, who impressed in pre-season testing, will have no better mentor than Crutchlow to help him through his first year and Team GB will no doubt provide a few gold medal moments on the grid, if not the races, this year.
So join us on the grid this year, starting in Qatar this weekend. It promises to be a classic.