MotoGP 2013: Jorge Lorenzo faces stiff competition for his title

By Steve Parrish
BBC motorcycling commentator
Last updated on .From the section MotoGP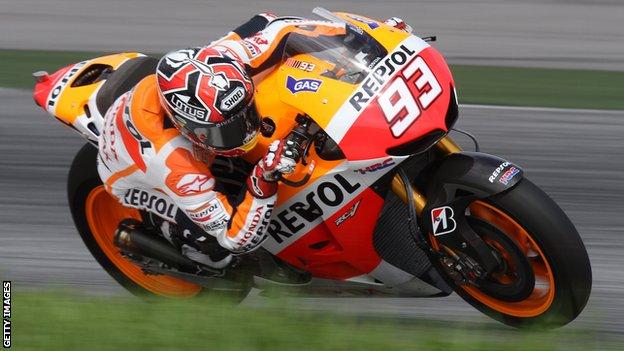 We are back in business in Qatar this weekend and I am very excited about the new MotoGP season. It's been a long time since we had four potential championship winners but I think we do this year.
Dani Pedrosa and Jorge Lorenzo are the two hot favourites who start a bit ahead of the rest but both of their team-mates are set to be in with a shout as well. It promises to be a real battle throughout the season and I just hope that they all stay fit, don't break a collarbone or a wrist somewhere and let's see the best man win.
We've got the old warhorse coming back to the front in Valentino Rossi. It's been too long since we saw him win a race, back in Malaysia in 2010, but he should win a few this year now he's back with Yamaha. He remains the most popular rider at every circuit, no matter where you go in the world, and it will do everyone the world of good having him back fighting for wins.
I can't see him winning the title but he has surprised me before and I wouldn't rule him out just yet.
Finishing the top four is Marc Marquez, who is simply the most exciting prospect we've had in a long time. Casey Stoner came in to MotoGP a bit under the radar but we have all been hugely excited about seeing Marquez ride with the big boys for the last 18 months or so.
He will mix it up as he is known for his aggressive riding style. It will be easy for him to get carried away and hurt himself so Honda need to keep an eye on him at first without taking away his phenomenal speed.
I believe Marc Marquez can qualify on the front row in Qatar this weekend, maybe even on pole position. He has already shown in testing that he is super quick over a lap. That would be some effort but I think he can do it in the new qualifying system.
Speaking of unruly riding styles, we have a new 'yellow card' system in place this year where race direction and stewards can penalise riders for what they see as dangerous riding. You may get four points for a minor infringement, and if you get 10 points then you are ruled out of the next race.
Qatar is a night race of course, the only one of the season, so we have one practice on a Thursday instead of the usual start on a Friday. Most of the riders are used to the night conditions now but it can catch out the inexperienced riders. I remember Cal Crutchlow saying that on his first night session he kept thinking someone was trying to overtake him, only to realise that it was his own shadow he could see out of the corner of his eye!
You never know what the track is going to be like in Qatar. It is in the desert so sand is a problem and the track changes hour-by-hour as the humidity and temperature changes. It's a tricky one.
Cal can build on his fine season last year and again be up the front. He will find it tougher to get on the podium this year thanks to the strength in depth he now faces, but he showed in testing in Jerez last time out that he is as quick as anyone.
He is the team leader now, with fellow Briton Bradley Smith as his team-mate, and he appears to be growing in stature. I fancy him to be right up there this weekend.
You can watch practice on the BBC this year so make sure you join us for what should be one of the most interesting seasons in years.
Steve's Qatar predictions:
1.) Dani Pedrosa 2.) Jorge Lorenzo 3.) Cal Crutchlow