Cal Crutchlow column: Only Jorge Lorenzo could win on my package
Last updated on .From the section MotoGP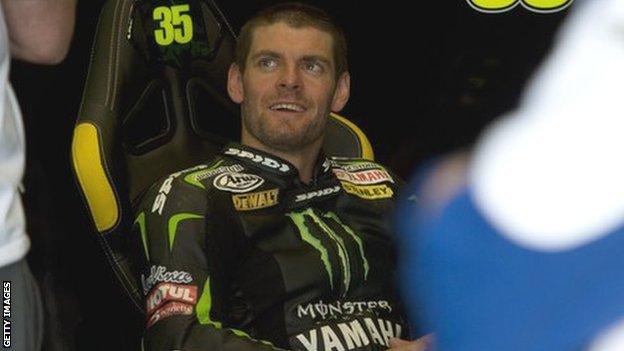 Cal Crutchlow is Britain's leading rider in MotoGP, which begins again in Qatar on Sunday. In the first of his series of columns for BBC Sport, the 27-year-old talks about life on and off the track, from proposing to his girlfriend during the off-season to the reasons he will struggle for wins on his Tech 3 Yamaha this year.
This season I will be writing a series of blogs for BBC Sport, which will hopefully give you an insight into my life as a MotoGP rider.
I'm starting my third season with Monster Yamaha Tech 3 and a few things have changed for me over the winter break.
I got engaged to Lucy, my girlfriend of five years, while we were on holiday in the United States. We have a very different lifestyle to a lot of riders. We live on the Isle of Man and it's perfect. I can get up in the morning, go cycling and do what I want.
Lucy definitely wears the trousers at home but gives me so much support. She's not shy about telling me if I'm not riding fast enough - but I like that. She's working hard to get me to where I want to be in my career and comes to all of the races, travelling with me near enough permanently. At the end of my career, we will do whatever Lucy wants.
There is a lot of hype around me in the UK and that's great. We are obviously getting decent results and creating interest but have still got to prove we can run in the front in MotoGP.
I feel I've had to work harder than most riders to get here, because a lot of the others are more naturally talented than me. Because of that, I feel more rewarded when we get a better result.
I have a reputation for being outspoken. In motorcycle racing there are a lot of people that just say things to keep a job but if I think something is wrong, I won't have a problem saying it. I've never said anything bad or derogatory - what I state are facts and people seem to like that.
I've also managed not to get involved in some of the off-track dramas that happen between riders. Some think I don't take it too seriously but I do. It's just that because I'm not challenging the top riders every week right now, I'm not a big threat. When I do start to challenge them consistently, everything will change.
If by some miracle I won the first race of the season, I'd get a very different reception to what I get today - but I'll give the other riders the same reception as when they finish 10th.
This year I also have a new team-mate in Bradley Smith, who is a friend of mine. And I know from my first year in MotoGP that this will be a tough year for him.
If I could give him any advice, it would be to say nothing about his targets. I made that mistake: I expected to be at the front straight away because I'd been at the front in other championships. That wasn't the case.
If I can take something from my second year in 2012, it was that I took nothing for granted. I realised the guys around me are fast and I just have to do my talking on the track.
Now that I'm starting my third year, I've matured again. I ride differently and have learnt not to look too much at what people say or think. I think that's the best way to be.
This year we are the only satellite team to experience reduced factory support, which does put us at a slight disadvantage. I had a choice to go to Honda and be a factory-supported rider but chose to stay here because I wanted to be loyal to Yamaha. I fully understand their situation though: financially it's difficult to produce parts, and all the spare parts they have go to the factory team.
Would Jorge Lorenzo still win on my package? Yes, maybe - but that's him. Would Valentino Rossi or anyone else win on it? I don't think so. I think Lorenzo is what makes the difference at Yamaha but I'm confident we can do a good job on what we've got.
Pre-season went well for me and we were fastest in the last test in Jerez but I'm not taking too much from that. I think that here in Qatar is where we will see the true potential. We've been promised upgrades from Yamaha after the first four races, so that's maybe when we'll start to go faster.
For now, if we finish in the top five or six, I'd be very happy.
Thanks for reading and stay tuned for more from me during the season. In the meantime you can follow me on Twitter.
Cal Crutchlow was speaking to BBC Sport's Azi Farni.