MotoGP: Vintage Valentino Rossi ensures season starts in style

By Matt Roberts
BBC MotoGP presenter
Last updated on .From the section MotoGP35
Poor Jorge Lorenzo.
The reigning MotoGP world champion rides a perfect race to and all anybody wants to talk about is his team-mate Valentino Rossi!
Lorenzo is no stranger to Rossimania and the phenomenon was back in full force on Sunday night, when huge television audiences in all of the sport's key territories tuned in to see "The Doctor" return 'home' to Yamaha.
They weren't disappointed as Rossi turned back the clock to prove the doubters wrong with a vintage performance as he stormed through to take second place.
Valentino's renaissance no doubt helped contribute to making MotoGP the most watched programme on BBC2 all weekend, with an average of 1.67 million viewers and a peak of 2 million - up by 20% on 2011 (last year's race was on the Red Button).
My friend and former colleague Dennis Noyes is now an analyst for Spanish station Tele5 and he says that despite the success of Spaniards Lorenzo, Dani Pedrosa and the emerging Marc Marquez, Rossi remains the most popular rider in Spain and he was almost single-handedly responsible for their massive 44.6% increase on last year's figures, averaging at 4.5 million for the race with a peak of 5.2 million, taking a 25.2% audience share.
In Italy, where the viewers stayed largely faithful to Rossi throughout his poor two years with Ducati, Mediaset enjoyed an average audience of 5.28 million, peaking at 6.63 million with a 17.5% broadcast share.
Those figures in both Italy and Spain clearly demonstrate the enduring popularity not only of a bonafide superstar but of a sport that is second only to football in the national consciousness. In Britain, meanwhile, MotoGP remains a relatively minority sport but the rise in its popularity is palpable.
The emergence of Cal Crutchlow has been a massive factor in that, helping to galvanise the floating public willing to get behind a Brit in any sport and adding to the hardcore support that has never wavered and turn out every year in their thousands at Silverstone or Donington Park.
With the new increased service on offer by the BBC, it is fair to say that they have never had it so good and other than a Crutchlow podium, we could barely have wished for a better start to the 2013 campaign last Sunday.
There were so many questions going into the new season but most of them were answered over the course of 24 gripping laps under the 5.4 million watts of light at Losail.
The biggest one, of course, was whether Rossi still 'has it' after those two disastrous years with Ducati. I must admit to having my own doubts but they were blown away in a stunning final third of the race that saw him pick off positions with the trademark panache that has been sorely missed since he last guided his Yamaha to the podium in Valencia at the end of 2010.
It was interesting that whilst the other four of the top five finishers all set their fastest times of the race within the first three laps (Lorenzo and Crutchlow on lap two, Pedrosa and Marquez on lap three), Rossi's came as he mounted a head of steam on lap 16, proving at least that his fitness is not an issue.
I noticed from some of the comments on that people are accusing him of 'writing Rossi off' but I don't think that was ever the case.
Like it or not, the fact he couldn't make the Ducati Desmosedici work brings into question his status as the 'G.O.A.T' (Greatest Of All Time) and there were legitimate doubts about whether he could ever rediscover his best form at the age of 34 - doubts Valentino himself voiced.
But on Sunday he provided the answer, to himself and to the world, and nobody is happier about that than Steve, myself or the rest of our team because it means we are nicely set up for the classic season that we dreamed of when he announced his return to the Japanese factory last year.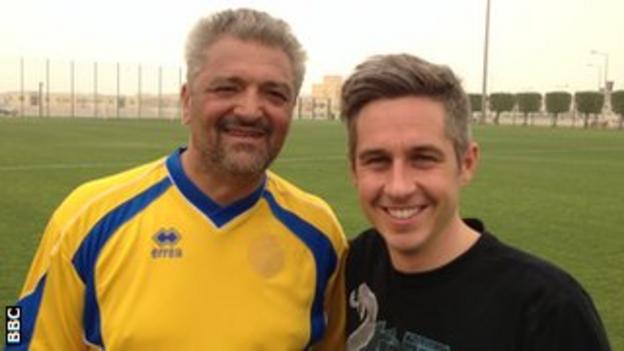 By Valentino's own admission, he may not have pushed Jorge Lorenzo for the win on Sunday night and it remains to be seen whether he will have the consistency to mount a serious challenge for the title but it will certainly be a damn good watch!
Rossi wasn't the only Italian legend turning back the clock in Doha. On Saturday morning myself and a bunch of paddock colleagues, who organise a game of football at most rounds, got together for our first kickabout of the new season and were joined by 1982 World Cup winning striker Alessandro Altobelli, who now works as an analyst for Al Jazeera.
There were rumours that Italia 90 Golden Boot winner Toto Schillaci was also going to play but much like the rest of his career after that World Cup, he didn't turn up!
Weirdly it's not the first time I've ended up sharing a pitch with an icon of the game because of my job in MotoGP. In 2005 I was working as a translator for Telefonica Movistar and was invited to play in a promotional match at the mini Nou Camp in Barcelona, where I ended up on the same team as Barca and Spain legend Luis Enrique!
It's a far cry from the Huddersfield and District League Division Two, which is where I was back playing on Tuesday night for my team Heywoods Irish Centre in a crucial promotion clash with Cumberworth FC. We managed to grind out an ugly 1-0 win on a bobbly pitch but as I'm sure Cal Crutchlow would agree after a valiant display in Qatar, it is not all about performances, it's about results!!
On Friday I'll be back leading the other half of this surreal double life that happens every year between April and November, heading for Texas to spend four days at Colin Edwards's Bootcamp before we move on to Austin for the inaugural Grand Prix of the Americas.
I'm looking forward to experiencing a brand new track for the first time since we went to Aragon in 2010 but more than anything I can't wait for the race, which should be every bit as entertaining as last Sunday's.
we could see the results from Qatar flipped on their head, with Pedrosa and Marquez picking up the mantle from Lorenzo and Rossi.
Without the disadvantage of not having prior track knowledge on a MotoGP bike, which will be the case at the majority of tracks this season, Marquez has an early opportunity to secure a debut win whilst his more senior team-mate Pedrosa will be doubly determined to make up for a disappointing performance and result in Doha.
As the series goes from the Middle East to the Wild West, we're guaranteed another spellbinding shoot-out for podium positions.