MotoGP 2013: Marc Marquez can become youngest winner in Austin

By Steve Parrish
BBC motorcycling commentator in Texas
Last updated on .From the section MotoGP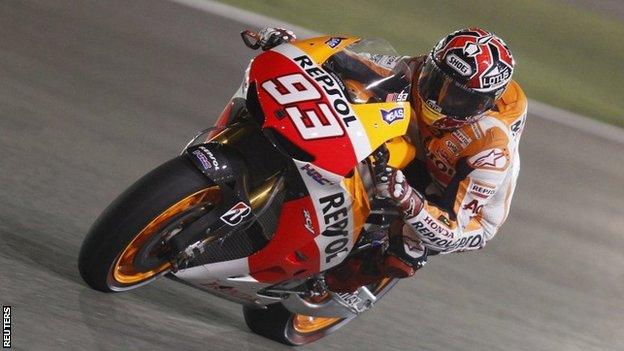 New track, new year, new winner?
MotoGP heads to Austin this weekend for the first time and everyone is very excited. It is the first time we have gone to a new track since the first race at Aragon in 2010 and there is lots of excitement around the paddock.
It has been promoted hugely on television out here and they are expecting a very big crowd. There are three Americans on the grid in Nicky Hayden, Ben Spies and the pride of Texas himself, Colin Edwards - who we have been spending time with filming this week.
Some riders are not happy that only five of them went out to test there last month, and the Hondas of Dani Pedrosa, Marc Marquez and Stefan Bradl, and the Yamahas of Jorge Lorenzo and Valentino Rossi will have a definite advantage this weekend.
Cal Crutchlow is one of those who are unhappy. He joked he may as well skip this race but he is a fast learner and he will soon pick it up.
I saw on Twitter that he was asking if he could borrow a computer game off somebody to play the F1 track, so there is always a way to get some information on a new track.
The riders will be going around the circuit on scooters on Thursday - some of them cycle, some run it - but they will be in the dark really until Friday morning when they have their first practice session.
There is lots of talk about how interesting the circuit is; there are lots of changes in elevation and the run up the hill to turn one looks spectacular. It is also the longest straight we go to all year, at about 1,200m, so we can expect some high speeds.
Dani Pedrosa hit 213 mph in Qatar so these bikes are not hanging around this season. We could see even more in Texas if the guys can hang on. There are plenty of big braking zones which should make for some good overtaking.
When you go to a new track people are learning the whole time, so it tends to make for good racing as there are more mistakes.
You would have to say the Repsol Honda riders start as favourites to win this weekend after they dominated the test. The Honda tends to suit tracks with long straights as well so it is all pointing their way, but I thought that before Qatar and Lorenzo and Valentino Rossi found the pace on the day.
Marquez is in real contention to take his first win at just 20 years of age. He has been downplaying his chances but even he will know he could be right up there. Do not forget he is still learning how to ride a MotoGP bike but he is in contention.
If he wins a race before the British Grand Prix at Silverstone on 1 September then he will become the youngest winner in premier class history, beating Freddie Spencer's record of 20 years and 196 days.
That would be a phenomenal achievement - but one he is well capable of.
Dani Pedrosa got off to a slow start in Qatar, and that is what cost him the title last season so he needs to sort that out. He is already 12 points behind Lorenzo and he cannot let him get too far away.
It has been gorgeous weather in Texas all week but I have heard we may have a shower or two on race day. Wherever we have been in the last year or so there has been rain, and that would shake things up even more.
Steve's Austin predictions:
1. Marc Marquez, 2. Jorge Lorenzo, 3. Dani Pedrosa