MotoGP: Cal Crutchlow's Tech 3 Yamaha team hit by fire in Texas
Last updated on .From the section MotoGP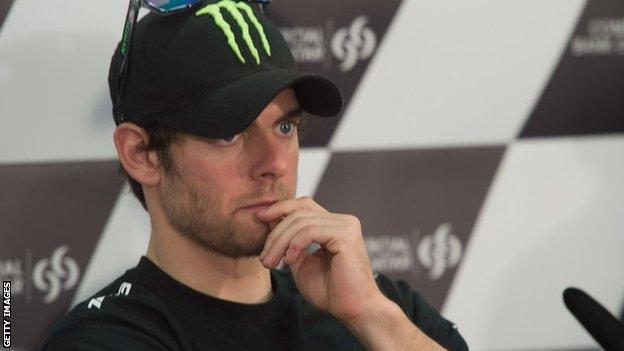 Cal Crutchlow's preparations for this weekend's Grand Prix of the Americas have been hampered by a fire in his team's pit garage.
A battery charger caught fire in the Tech 3 team garage, damaging computer equipment and triggering the Texas circuit's sprinkler system.
Both Crutchlow and British team-mate Bradley Smith's Yamaha bikes were undamaged and both will ride on Friday.
Crutchlow said on Twitter: "The team have spent all day cleaning up."
Sprinklers were also set off in three other team garages.
Tech 3 team manager Herve Poncharal said: "The process of starting a MotoGP machine requires an electric starter and overnight they are left on charge.
"This is standard procedure but, unfortunately in the night, one of the batteries caught fire.
"We have suffered quite a lot of damage and of course it is not ideal preparations, but thankfully the fire prevention measures undertaken by the Circuit of the Americas and the assistance of the local fire department were invaluable.
"We will be conducting a thorough investigation to find out why this issue occurred and take the necessary steps to ensure it is not repeated."
Crutchlow finished fifth in the opening race of the season under the floodlights in Qatar.
The Yamaha team of world champion Jorge Lorenzo and Valentino Rossi were also disrupted by the sprinklers and team boss Lin Jarvis admitted the fire could cause further problems.
He said: "If we hadn't been here at this excellent facility, we could have lost six bikes.
"There was no damage to any people or the bikes, but computers, servers and spare parts have been flooded. We can race this weekend but have to take everything to pieces and dry each part to ensure we have no corrosion issues in the future."