MotoGP: Marquez form 'annoying and embarrassing' for Pedrosa

By Steve Parrish
BBC motorcycling commentator
Last updated on .From the section MotoGP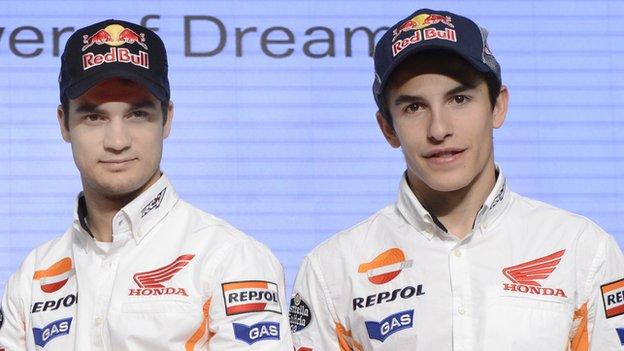 Marc Marquez rode with such determination, skill and ability for a historic victory at the Grand Prix of the Americas on Sunday.
It was a mature ride from a young kid, who was taking his first win in MotoGP in only his second ride, as well as taking the record of being the youngest winner of a premier class race away from Freddie Spencer.
Marquez had been the fastest throughout the weekend, but there was a recipe for him to lose in that there were experienced, older riders - like Dani Pedrosa and Jorge Lorenzo - who are in the prime of their racing careers and they were there to take it away from him.
However, Marquez just did everything perfectly. He didn't get the best of starts but got himself nicely into second. He then followed his far more experienced Repsol Honda team-mate around, watched what was going on and paced himself.
I was considering that he might have struggled for fitness in that you can train all you like but you can't simulate riding the bike around the circuit, but he showed that he is fit and young and did everything in the perfect order. In fact it was probably the more mature ride and it was Pedrosa who suffered.
The pair are probably less friendly now than they were before because I would say that Pedrosa was not expecting Marquez to be that fast so soon.
Pedrosa has just got rid of Casey Stoner and he has a new young team-mate, which most of us thought would have elevated Pedrosa to being the clear number one team rider, but that hasn't been the case and he has been beaten twice so far this season.
It will be hugely embarrassing and very annoying for Pedrosa and I guess he will not be sending his team-mate a Christmas card later this year.
Marquez has to make a few more mistakes than some of the more experienced riders will this season, but speed-wise he is going to win a lot of races.
However, it is what happens when he doesn't win races - whether he finishes second or third or finishes in the gravel - that will be key to how he performs overall.
I must also mention Cal Crutchlow, who did a sterling job on Sunday. He had not been testing here, Valentino Rossi and Stefan Bradl had but Cal sucked it up and did a really stunning job to get fourth place - he was not far behind Jorge Lorenzo on a factory bike, which was phenomenal.
Cal went to Austin and said he wanted to be the best of the rest, meaning the ones who had not tested here, and he did more than that. He was really, really impressive and he is going to be so strong this year.
Finally, the track was fantastic, it really is quite a phenomenal circuit.
Everyone who has been here has thoroughly enjoyed it, particularly the riders.
Every rider has talked about how physically demanding it is and in fact Pedrosa said that was what probably cost him the race - he lost sense in his arm.
It is the longest corner circuit and there is just no time to have a breather at all. It is very demanding and hard braking but at the same time spectacular and I think the crowd that went this weekend will go and spread the word about it.