MotoGP: Rookie Marc Marquez has the paddock as his playground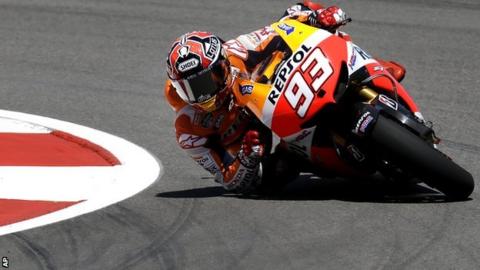 When 20-year-old Marc Marquez took the chequered flag in Texas to become the youngest-ever winner in the premier class, not many in the paddock were surprised.
That he would win a race in his first season was never really in question. Since his first world title in 125cc in 2010, the murmurs about a future MotoGP crown have grown steadily to the point of asking now: could he challenge for it in his rookie year?
Like many world champions before him, Marquez started riding a motorised bike at the age of four. The Spaniard entered his first championship, in his home region of Catalunya, at the age of seven, plying his trade in the Catalan championship in his early years.
It is here that a young Marquez met 1999 125cc World Champion Emilio Alzamora, who would become his manager and mentor, shaping and guiding his career through two world titles and 26 wins in 125cc and Moto2, to a factory Honda ride and a record-breaking first victory in MotoGP.
It took Marquez until his third season in 125cc to record his first Grand Prix win but once the floodgates opened he would take a further nine wins out of 13 on his way to the title that year.
But it was the penultimate race of that title-wining season, in Estoril, that the paddock really started to take note of Marquez.
With the race red-flagged because of rain, Marquez crashed on the way to the grid for the restart, seemingly shattering his championship bid in a momentary lapse of concentration. After a frantic bid to fix the bike in the pit lane, the then 17-year-old had to start the race from the back of the grid, instead of second where he had qualified. In what would later become a trademark run, a lightening start saw Marquez climb up to fifth into turn one and third by turn six, before taking the win against all the odds.
He would have to wait until the next and final round, in Valencia, to seal the championship but it may well have been that race in Estoril that sealed his future, as the first indications were shown that this baby-faced Spanish wonderkid was a very special talent indeed.
Two years in Moto2 - in a team formed by Alzamora especially for him - saw plenty of drama, with both incredible and controversial moments on track. But Marquez never lost his cool.
He angered his rivals and twice provoked penalties from Race Direction, but it did little to dampen Marquez's determination - nor the fans' growing admiration of his talent.
Both penalties, for incidents involving Ratthapark Wilairot in Phillip Island and Simone Corsi in Valencia, forced Marquez to start from the back of the grid, from where he battled to a podium and win respectively. On another occasion, in Motegi in 2012, Marquez dropped to last on the grid after an error at the start, but once again clawed back to a sensational win.
Those charges through the field demonstrated inspired moments of brilliance and an enviable self-belief but also raised the question of how he would fare against the top riders at the highest level of motorcycle racing.
"You can't ride like that in the premier class and get away with it," was the sentiment coming out of MotoGP.
Would Marquez suddenly ride cautiously and take his time to get up to winning speed or would he, like current world champion Jorge Lorenzo before him, learn about the limit of these MotoGP prototype bikes all too quickly the hard way?
Coming up as double-250cc World Champion, Lorenzo entered MotoGP full of confidence and, like Marquez, got a podium in his first race, winning in his third. Thereafter though over-confidence played a part in a string of injuries when the then-250cc World Champion suffered seven big crashes in seven races.
In Texas, Marquez became the youngest-ever rider to win and score a pole position in the premier class. He also won his first race faster than any of his current rivals in MotoGP.
When asked in the post-race press conference about whether he was surprised by the strong start by "Mr Marquez" to his MotoGP career, Lorenzo quipped: "I think he's still too young to be a mister.
"But we have to call him mister because he is an extraordinary rider and today he demonstrated that he's very strong, with a high-level capacity to learn."
With admiration came a veiled warning though, as Lorenzo reflected on his own experience.
"When you are 20 years old and a rookie in MotoGP you see things in a different way. You have a lot of anger to demonstrate and you are not afraid to crash.
"When you get a little bit older, closer to being a 'mister', you start to become more conscious about all the risk. You have more experience so you calculate the risk more and you have a more global view of the championship."
For now though, the paddock is Mr Marquez's playground.
In becoming the sport's youngest premier class race winner at the age of 20 years and 63 days, Marquez broke a record that had stood for 31 years - that of American Freddie Spencer, who was aged 20 years and 196 days when he won the Belgian GP in 1982.
Now another American, Kenny Roberts Sr, will be watching Marquez closely to see if his 35-year record as the last rider to win a championship in his debut year will be the next to go.