MotoGP: Marc Marquez leads trio of Spanish riders at Jerez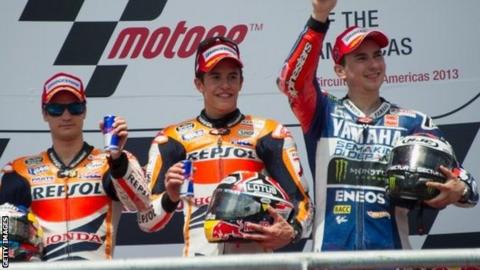 Spanish Grand Prix
Venue:

Jerez

Friday 3 May:

Practice 08:55-14:50 BST online

Saturday 4 May:

Qualifying 11:20-15:00 BST on Red Button & online, and 13:00-14:00 BST on BBC Two and online

Sunday 5 May:

Moto2 & 3 races: 09:45-12:20 BST on Red Button and online, MotoGP race: 12:30-14:00 BST on BBC Two/HD and online; MotoGP Extra 14:00-14:30 BST, online
Their football teams may be having a bad time of it right now, but sport fans in Spain can at least get ready for a celebration this weekend when the first European MotoGP round of the season takes place in Jerez.
Spanish riders have won all six races so far across the three classes, so there is plenty to get excited about for the home crowd, which could be massive.
There were over 120,000 fans on race day two years ago and, with the sport's bringing in a few more as he duels with fellow Spanish riders Jorge Lorenzo and Dani Pedrosa, we are set for an excellent crowd.
Jerez is an old-school circuit, even though it is only 25 years or so old. It is moulded into the hillsides and has plenty of good places to watch, and fans and riders alike enjoy it immensely.
Marquez is leading the championship, something which nobody expected him to do so early in his career. We have only had two races but he has been brilliant so far - faultless.
He became the youngest rider in history to win a MotoGP race in Texas last weekend and has been in astounding form.
How he will fare under the spotlight is hard to say, but I imagine he will just get on with it. There is no pressure on him at all, while there are two people with a lot on their shoulders this weekend.
Valentino Rossi and Dani Pedrosa will be under the microscope. Dani was clearly meant to be Repsol Honda's number one rider this season and he has a very good chance of winning his first championship, as I have been saying all winter, but first he has to find a way of beating that young whippersnapper of a team-mate of his, Marquez.
Dani has to start winning races soon and this could be the ideal time for him to do so.
Meanwhile, Lorenzo's team-mate Rossi cannot be impervious to pressure.
The Italian astounded us all in Qatar when he finished second, but then he probably underachieved in Texas.
So it has been up and down so far. He will be putting himself under pressure more than anything, but he has won eight races at Jerez down the years so he knows it like the back of his hand.
and he has done nothing wrong in either race so far. To be mixing it with the calibre of riders at the top of the standings is a superb effort. Cal says his bike is not as good as those of the other top riders, but if there is any discrepancy in the machinery then Jerez is a good place to mask it.
I guess he was not really fit for Austin last time out, but felt he could not miss his home race.
We see riders racing with broken bones quite often but I am aware that a shoulder injury can be horrendous. If you have not ridden a grand prix bike you cannot understand just how much strain is put on your upper body.
A broken leg can be screwed, it can be plated, it can be immobilised. But with a muscle injury, a torn ligament, there is nothing you can do. If you do not rest an injury like that it could end his season. He has to let it heal.
He will be missing but it should be a great race. Let us hope the weather is good and we have a level playing field for them all.
Steve's Jerez prediction: 1. Dani Pedrosa 2. Jorge Lorenzo 3. Marc Marquez