Cal Crutchlow column: A solid start & meeting Mickey Mouse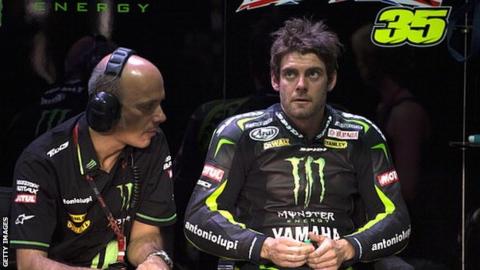 Cal Crutchlow is Britain's leading rider in MotoGP and currently lies fifth in the championship. In the second of his series of columns for BBC Sport, the 27-year-old talks about Marc Marquez, the possibility of losing his ride and meeting Mickey Mouse.
We've had three races since I last wrote a blog and I'm happy overall with how they went.
We had a good opportunity in Qatar to be on the podium and Texas was probably one of my best results in MotoGP because I had a really strong consistent race.
I had good expectations for Jerez but didn't finish where I expected.
I had a big crash on the Saturday, which set us up for the race - I was just pleased to finish. Last year I probably would have kept pushing and it would have been a big risk. I would have either got a good result or crashed out. This year, I understood the limit from the crash, so knew the limit in the race. I was happy to finish in the top five.
I have finished close to Valentino Rossi in all three races and have read about how he is my benchmark and how we want to beat each other more than anyone else, but that's not true. I want to beat everyone.
Valentino doesn't want to beat me because that means he's beating the guy for fourth place; he wants to be beating the guy for the win.
Obviously comparisons are going to be made because we're finishing quite close to each other in the races and practice, and we ride our bikes in a similar way.
But Valentino is not my only target. My benchmark is to be the top satellite bike - and if we can beat the factory guys every now and again I'll be very happy.
There was a bit of controversy around Marc Marquez's pass on Jorge Lorenzo in Jerez, but Marc was entirely correct to try the move.
We race motorcycles around a track and at some point there's always going to be contact. It was the final corner on the last lap and in only the third race of the year. No-one has anything to lose.
Everyone wants the racing a lot closer but when it gets tighter, everyone starts whingeing. It's good for the sport and for the championship; there has to be a bit of this back in MotoGP. Motorcycle racing is dangerous and when we're hitting each other it's not great, but you can have close racing like that without anyone crashing and getting injured.
Marquez is a class act. He's one of the best riders in the world at the minute and will definitely win some world championships.
His riding style is incredible; to follow him is really funny. His "elbow down" style is different to everyone else's and it's probably made him better than everyone else.
When Rossi started dangling his leg out a lot of other riders followed suit, but I don't think I will be drastically changing my style just because Marquez is getting his elbow on the tarmac.
Lorenzo is taller than Marc and has an incredible lean angle but his elbow only just touches the floor now and again, so I don't think we can take anything from it. It's just Marc's style and maybe with the Honda he's able to do that more. My arms are too short to hit the floor anyway!
There is some great British talent in the world championship right now but British riders have it a lot harder than our Spanish or Italian counterparts.
With the economy and everything, it's difficult at the minute but I'm trying to change it by being near the front and saying: "Yes it is possible." There are good British riders out there but we seem to find it harder to get good backing.
Riders shouldn't have to be paying for their rides or bringing sponsors to the teams to get a ride. If it went on potential and results alone, it'd be a different story.
How do the likes of Scott Redding get in without a team that can bring him in, or some money behind him, when he clearly deserves a chance?
We've shown that we can be competitive at the front of MotoGP and have done enough to be in a factory team or on a factory bike at least.
If the rumours are true then Pol Espargaro could be taking my seat in Tech 3 on a factory bike with a factory contract next year.
He'd be getting everything that I've asked for but he hasn't proved himself in MotoGP.
It's down to Marquez fever and people thinking that just because someone's beaten Marquez in Moto2 in the past they can go and do the same again. Trust me, they are not at all in the same league as him.
I want to stay with Yamaha but I'd like to be a factory rider, like the satellite Hondas and satellite Ducatis.
I would rather stop racing than go from fighting near the front of MotoGP to having to ride a CRT bike. I'll go and do something else with my life.
All I can do is ride the bike and get decent results. I'll try to be the top satellite guy as close to the front as I can and hope that something will happen.
I won't let this speculation affect my season, though. I'm in exactly the same situation I was in last year: we knew Bradley Smith was coming to MotoGP, taking the seat of either Andrea Dovizioso or me. Dovizioso had the better results but I think I had the most potential. He went to Ducati and I stayed where I am and I'm still near the front.
Espargaro and I will both be going to Argentina to test the new track in July. Perhaps there he can test my bike and we can go head to head and see who's fastest and see who should get the ride? That's what I'm going to suggest to Yamaha!
I'm really busy up until Le Mans on 19 May. I had to attend a media event in the UK on Thursday and then I'm going back to the Isle of Man for a few days, before I go to Disneyland on Wednesday for a promo event. I'm looking forward to meeting Mickey and Minnie Mouse and going on some rollercoaster rides.
It's the team's home race and Monster are the title sponsor, so it will be a busy weekend - very similar to what Silverstone is like for me.
But I will make sure that we're concentrated on the job and there's no reason why we can't be finishing in the top five again.
Thanks for reading and stay tuned for more from me during the season. In the meantime you can follow me on Twitter.
Le Mans MotoGP
Venue:

Le Mans circuit, France

Friday 17 May:

08:55-09:40 BST: MotoGP Free Practice online; 12:10-14:50: Moto3 / Moto2 / MotoGP Free Practice online

Saturday 18 May:

08:55-09:40: MotoGP Free Practice online; 13:00-14:00: MotoGP Qualifying on BBC1; 11:35-14:50: Moto3 / MotoGP / Moto2 Qualifying on Red Button

Sunday 19 May:

09:00-11:20: Moto3 and Moto2 races live on Red Button and online; 1230-1415: Live MotoGP Race on BBC Two/HD and online