Cal Crutchlow could lose his Tech 3 seat, says team boss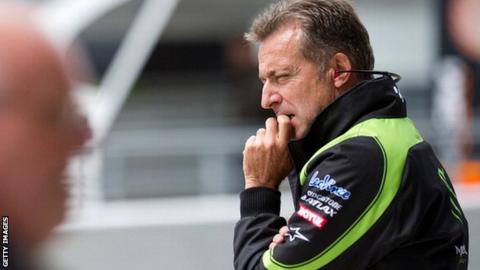 Team owner Herve Poncharal has given a strong hint Cal Crutchlow may lose his ride at Tech 3 at the end of the year.
Poncharal confirmed that Yamaha have spoken to Moto2 rider Pol Espargaro about a possible 2014 deal.
"That Yamaha and Espargaro have spoken is a certainty," he told motogp.com.
Yamaha's Jorge Lorenzo and Valentino Rossi and Tech 3's Bradley Smith are all tied into contracts until 2014, while Crutchlow's contract is up at the end of the year.
Poncharal added: "I do not know the depth of those conversations, whether something has been agreed, is almost agreed or whether there is still a lot to sort out. What I do know is that Yamaha has four bikes and, when Cal Crutchlow is the only rider who is contracted only for this year, some think Espargaro could take his place.
"I love Cal and will be keeping him informed of what I know, simply to allow him as much time as possible to remain attractive on the rider market - whether that will be to stay at Yamaha or to go somewhere else."
Crutchlow was linked with a move away from Tech 3 last year during brief talks with Ducati about a factory ride, but the Italian outfit eventually signed his then Tech 3 team-mate Andrea Dovizioso.
"He had been ready to go in mid-2012 and so only renewed his deal with us for a year in order to maintain the opportunity of being on the rider market for 2013, to try and become a factory rider, which would be a dream for him," said Poncharal, who is currently in talks with Yahama to extend his satellite contract with them beyond 2013.
"Had he signed for two years, he would not be in this situation now. For him, Tech 3 might be Plan B, but each rider manages his own situation and it is true that Cal is a bit boisterous. There is a market out there, though, and Yamaha are free to make their own choices."
Poncharal also hit back at Crutchlow's criticism of Yamaha for not providing the same factory support to its satellite riders as Honda or Ducati, saying: "I do not think Cal can say that we don't have active support and competitive machinery.
"Our engine specs are almost identical to the factory engines and we are now into the third development phase of the chassis since the first pre-season test."
After three top-five finishes in the first three races, Crutchlow currently lies fifth in the MotoGP championship.