Scott Redding secures maiden Moto2 win in Le Mans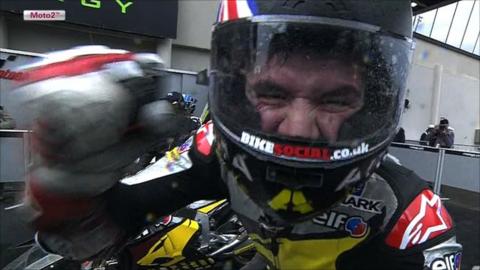 Scott Redding became the first British rider to win a Moto2 race with victory at the French Grand Prix in Le Mans.
The Marc VDS rider qualified second but took advantage of race leader Takaaki Nakagami's crash on lap seven.
The race was red-flagged with two laps remaining because of rain and, on count back, Redding's team-mate Mika Kallio was given second with Xavier Simeon third.
The win moves Redding to the top of the championship with a 24-point lead.
"It is amazing, it is a well-earned victory in such difficult conditions," said Redding.
"I want to thank the whole team, it is amazing to get this victory."
Victory seemed unlikely for Redding when he made a disastrous start, dropping down to ninth.
However, he made the most of a chaotic couple of laps when a number of riders crashed out, working his way through the field before moving to the front on lap eight where he remained for the rest of the race.
It was Redding's first Grand Prix victory since winning the 125cc race at Donnington in 2008 and also marked the first time for 30 years that a Briton had won at Le Mans since Alan Carter won the 250cc race in 1983.