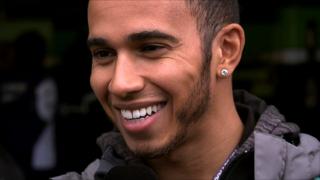 Hamilton 'buzzing' at French MotoGP
Formula 1 driver Lewis Hamilton says he is "buzzing" while attending the French MotoGP at Le Mans.
The 2008 F1 world champion tells BBC Sport's Matt Roberts he is a "big fan of bikes" and salutes MotoGP riders' bravery.
Mercedes driver Hamilton currently lies fourth in the Formula 1 driver's championship after four Grands Prix.
Available to UK users only.