Cal Crutchlow has joined the quartet of great MotoGP riders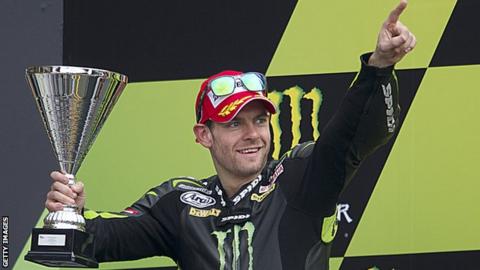 When Cal Crutchlow finished second in the French Grand Prix on Sunday, he became an alien.
We have always spoken about this special breed of motorcyclists and that there were four aliens - Jorge Lorenzo, Dani Pedrosa, Casey Stoner and Valentino Rossi. I think we can now induct Cal into that group.
The four I mentioned are the people who are always at the front and he is now one of those guys.
He was extremely impressive on Sunday. He raced with a hairline fracture in his leg but it would not have affected him. He was beaten up for sure and a lot of people would probably still be in A&E but he is such a bulldog-spirited British rider.
A year ago he called himself the honey badger - an animal that is apparently fearless - and he has turned into this really strong, solid lad. He is not like a lot of the superstars out there, he has his feet firmly on the ground and he wrings the neck of whatever he is on and drags it home for a result.
He is definitely a more mature Cal than last year. What I see now is that he will go and finish second instead of pushing for first and crashing. I think he will also accept finishing fourth if he feels he is over the limit for third.
He is getting the points that are pushing him up in the championship standings, which is great to see. He is now fourth and ultimately points make prizes - it is no good laying in the gravel trap.
I am not saying he is a percentage man but he understands his limits and it takes a long while to do that. You often think your limits are further down the road than they are and more often than not you end up in hospital as a consequence.
He is out of contract at the end of the season and I think he is doing enough now for the factory teams to be seriously looking at what he is up to. He did far better than nine-times world champion Rossi on Sunday.
Yamaha, Ducati and maybe Suzuki are coming back and he has to be at the top of the list. Cal wants to be on a factory bike and he is not bothered what it is.
There are two reasons for that. One is that a factory bike is tailored around the rider. He feels he deserves that and I agree with him, but I think he also wants the pay cheque that comes with it.
Sunday's race winner, Dani Pedrosa, had a faultless ride.
I backed him for the championship at the start of the year and he is now the complete package. He wasn't always, but he is now fast in the wet and the dry and this is his best chance for taking a championship.
The surprise form of his team-mate Marc Marquez means everyone on the grid, including Pedrosa, has had to step up another notch. I wish Casey Stoner was still here, because it would make the championship even better, but Marquez has replaced him admirably.
He finished third on Sunday and every time he keeps getting on that podium he has a better chance of winning that championship. He is still probably the fastest guy on the track - he just has to work on keeping himself consistent.
Finally, a tremendous win for Scott Redding in the Moto2 race capped a fantastic day for British motorcycling.
It was a very emotional ride for him because it is like a home grand prix in that his team is a French team. I think we have a lot to be proud about in motorcycling at the moment, I really do.