French GP: Injured Crutchlow aims to build on career-best result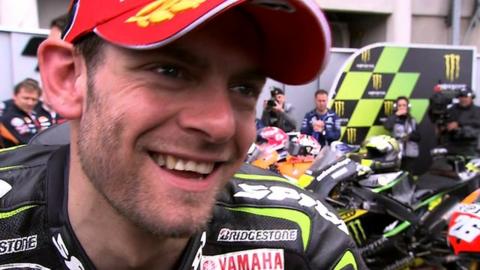 Cal Crutchlow is determined to build on his French MotoGP performance on Sunday as the British rider claimed a career-best second, despite racing with a broken leg.
The 27-year-old suffered the fracture in practice but showed no ill effects to secure a first podium of the season.
"I am happy," Crutchlow said. "Hopefully we can be injury free from now and be strong at the Italian GP."
Dani Pedrosa won in a wet Le Mans, with his team-mate Marc Marquez third.
Tech 3 Yamaha rider Crutchlow injured his leg in practice on Saturday, causing the session to be red flagged as he was initially unable to get up.
However, he was eventually able to walk unaided and he went on to take part in qualifying, claiming fourth place on the grid.
Crutchlow was again able to get on his bike for Sunday's race, where he passed Valentino Rossi on lap 14 to move up to third before dispatching of Andrea Dovizioso on his way to finishing second.
His podium was only the third of his MotoGP career, having finished third in the Czech Republic and Australian races last year.
"We deserved this, we have worked hard all year," Crutchlow added.
"We showed our pace in the dry and in the wet and I am pleased for everybody."
Crutchlow said of his injury: "I have a small crack in the top of the shin bone, so when I walk it hurts but on the bike it's not so bad and when the adrenaline is going it's no problem.
"I was more concerned about the chest and stomach because I coughed a lot of blood up on Saturday and had a nose bleed."
Team manager Herve Poncharal believes Crutchlow's result was just reward for his performances so far this year.
"Cal is doing an amazing job this season and once again he showed what a top talent he is," he said.
"He took his opportunity to get a podium and to get a career best result was a great reward for him and all his crew."