Cal Crutchlow and Scott Redding display best of British at Le Mans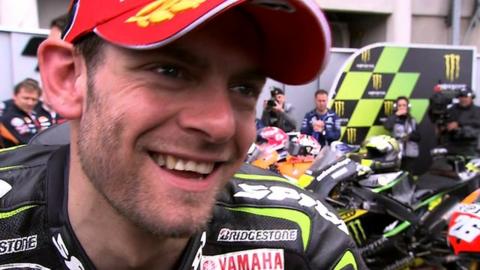 Setting an alarm for 03:30 BST last Thursday before making the journey to Le Mans via Manchester airport, Paris Charles de Gaulle and the notorious 'peripherie' ring road around the French capital was one of the rare moments during a MotoGP season when you start to question your own sanity.
By 15:30 on Sunday, however, it had all been worth it - and then some.
I will never forget being present on such a historic day for British motorcycle racing, with Cal Crutchlow scoring our country's best result in the premier class since Simon Buckmaster at Misano in 1989 (a race boycotted by the top riders) despite the pain of a cracked tibia and Scott Redding taking his first win in Moto2 - Britain's first in the intermediate class since Jeremy McWilliams at Assen in 2001.
Standing with Scott, still in his leathers, on a balcony overlooking the MotoGP podium as Crutchlow waved up to us and grinned, is a moment that will live long in the memory and I just know there will be many more moments to savour before a decade of the BBC's coverage of this thrilling championship comes to an end in Valencia in November.
The next step for Crutchlow is the top step and, even though that remains a virtually impossible task in dry conditions on satellite machinery, the 'Chuck Norris of MotoGP' showed that he is more than capable of round-housing the very best when the weather levels out the playing field.
In recent years we have seen wet races at Mugello, Assen, Sachsenring and Indianapolis before we enjoy the delights of the Northamptonshire elements at Silverstone in September, so Crutchlow could be a race winner by the time he returns to the annual hero's welcome at his home Grand Prix.
As for Redding, we can look forward to victory challenges in all conditions and at all circuits for the remainder of the season. Scott has always been a hugely talented rider - you don't become the youngest race winner in Grand Prix history by chance - but he has raised his concentration and commitment to new levels this season and is reaping the rewards.
The wacky hairstyles and silly hats of the past have made way for a sensible side-parting that reflects a more serious approach to his racing but Scott is still a fun character and his soft, humble side (he has a tattoo of a heart on his chest with the words 'Nan and Roy' written across it) was also apparent as he burst into tears in Parc-ferme.
Sunday was also memorable for me because I had the opportunity to meet Lewis Hamilton for the first time, which was a great experience. Lewis's enthusiasm for MotoGP was clear to see and he looked like any other fan would in the pit-lane and on the grid, taking photos on his phone of Jorge Lorenzo, Valentino Rossi and Cal Crutchlow.
As far as our broadcast was concerned meeting Lewis provided a bit of a hairy moment because at the very minute we had planned to speak to him he disappeared into the factory Yamaha garage to meet Lorenzo, meaning a last-second change of plan for us.
Thankfully former MotoGP rider John Hopkins, who we were actually planning to speak to later in the show, was on hand to step in. Luckily we had already given John a headset so that he could listen to our programme feed and 'talkback' from the gallery, which meant he knew exactly what was going on and he did a great job helping us fill the time until Lewis emerged and seamlessly walked into shot for a chat.
From that point on we had to rearrange the running order of the show live on air, which is always fun!
It was great to catch up with World Superbike racer Eugene Laverty, a former Grand Prix rider himself who was given a raw deal in the 250cc class and was overlooked in favour of riders from other nationalities.
In the same way that Chaz Davies and Leon Camier were forced out of the paddock but have since proved themselves in World Superbikes, Eugene has three race wins to his name already this season, he lies second in the championship and could well be on his way back to the MotoGP grid if his current employers Aprilia firm up plans to return to the series.
Eugene's brother Michael has also had to do it the hard way but at the age of 31 he is certainly impressing in his debut season at the top level on an entirely new machine.
Michael did a great job to bring the PBM bike home in 17th position on Sunday despite never having ridden it in the wet before and it is testament to the quality of the rider and the reliability of the bike that together they have completed every single lap of the four races so far.
Elsewhere Bradley Smith enjoyed his best weekend yet, qualifying and finishing in ninth place, whilst in the Moto2 class Gino Rea made a sensational wildcard appearance, charging from 31st to 12th before being forced to retire with a technical problem on the British-built FTR.
With John McPhee also picking up points in Moto3 there was plenty of bulldog spirit at Le Mans.