MotoGP: Scott Redding's Moto2 boss says Briton can make step up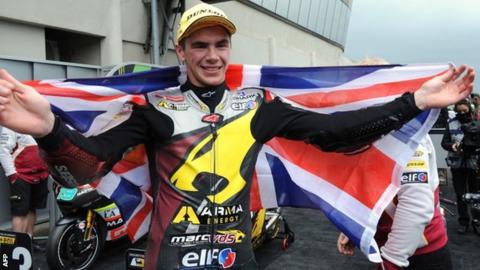 Marc VDS team manager Michael Bartholemy says Scott Redding can be "the future" of MotoGP, after the British rider secured his first victory in Moto2 in Le Mans at the weekend.
Redding took advantage of the wet conditions in France to open a gap of 24 points at the top of the standings.
The 20-year-old is the first British rider to lead the intermediate class since Tom Herron in June 1976.
Bartholemy, Redding's personal manager, said: "We merit a place in MotoGP."
Redding holds the record for the youngest grand prix winner having triumphed at the Donington 125cc race in 2008.
But this year marks his best start to a grand prix season, with a win and two other podium finishes in the first four races.
At 188cm (6ft 2in) and 70kg (11st), Redding is the tallest and heaviest rider in the class and had complained of his weight disadvantage in previous years. In 2012 there was 15kg (2st 5lb) between him and eventual world champion Marc Marquez, who has moved up to MotoGP.
A combined rider and bike minimum weight of 215kg has reduced the disadvantage but Bartholemy does not attribute Redding's recent success to the change.
He said: "To the main rivals there is not a big difference because these people reach the minimum weight with their own body weight and they do not have to add weight.
"The main change is in himself; he wants to win it this year.
"I think he's never, ever had so much confidence as now."
Redding's build makes MotoGP a more natural category for him and he has been linked with a premier class ride since last year, after a test with the Ducati factory team.
"It is a little bit early [to talk about MotoGP] but I think the future is people like him," said Bartholemy.
"When you see the riding style of Scott and the riding style of Marc Marquez, it's very, very similar... I think there should be a lot of advantage for a factory to put Scott Redding on a factory bike."
Marc VDS were also considering a move to MotoGP with Redding and helped test the Suter-BMW CRT (Claiming Rules Team) project, before opting to stay another year in Moto2.
Bartholemy added: "Everybody wants to go as soon as possible but last year when it didn't happen with Ducati everybody was saying he has to go to MotoGP. Do you think that he regrets that now?
"The priority is a good bike in MotoGP with a factory or near-factory bike. And after this if nothing is coming then we need to see ourselves what we can put [on the table]"