Moto GP: Marc Marquez aims to bounce back at Catalunya GP

By Steve Parrish
BBC motorcycling commentator
Last updated on .From the section MotoGP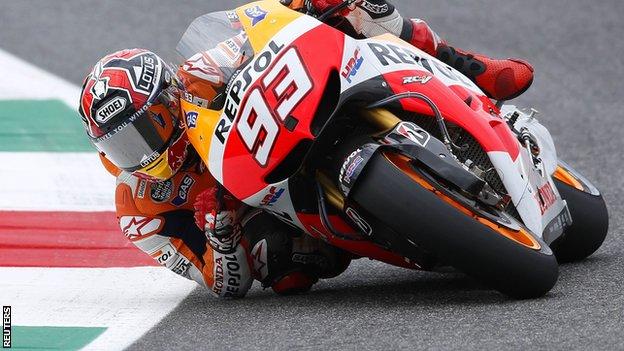 MotoGP is back in Spain this weekend and the castanets will be clicking away as the top three are Spanish and will all be hungry for a win.
The championship standings are so close that it should make for an excellent race in Barcelona. World champion Jorge Lorenzo and Dani Pedrosa look the strongest but you cannot discount Marc Marquez.
Marquez, 20, has been a revelation so far in his rookie season in MotoGP. He has won a race, had a pole position and a fastest lap, and now he's had his first crash in a race.
He made a mistake in Italy but now it is about how he bounces back. In fact, he crashed in every session at Mugello, including one of the biggest crashes we've ever seen in the history of bike racing in practice, losing control of his Honda at 198mph down the long straight.
It was incredible that he walked away from that and even more remarkable that he seemed to erase it from his mind straight away. It didn't slow him down as he crashed again on Saturday and then again in the race, so maybe he is fearless.
He had some huge crashes in Moto2 as well. He had a monstrous crash in Malaysia in 2011, when he almost blinded himself, and another huge one at Phillip Island when he rode straight into the back of Ratthapark Wilairot and smashed his bike to pieces.
Yet he seems to come out faster and stronger each time, which is the mentality you need to race at this level.
Everyone has their own doubts - maybe he's scared of the dentists or spiders or something - but falling off a motorbike at high speed doesn't seem to bother him. Riders don't usually mind crashing as long as they know why they crashed and Marquez will be learning from all of these accidents.
Another rookie who comes to Catalunya a bit battered is Briton Bradley Smith, who ground his finger down to the bone in a crash in Italy. It may not be the biggest injury that these guys ride on with, but it's an awkward one as every time he puts his gloves on or moves around on the bike it will be very painful. But I'm sure it won't affect his riding too much and he'll soldier on.
Champion Lorenzo was back to his dominant best at Mugello and he seems to be better than Pedrosa at managing his tyres, which could prove crucial for the rest of the season.
All of the bikes are set up between the soft and hard tyres at the moment. Everyone likes the soft tyre for the amount of grip it gives but they are not as durable as the hard tyres, and once you have chewed up a soft tyre it becomes very difficult to ride in the last few laps of a grand prix.
In his heyday, Valentino Rossi was the master of adapting his riding style to the state of his tyres. He would ride aggressively for the first five laps, change his style for the next 15 laps or so and then change again for the last five laps when his tyres were shot. Lorenzo also seems to have that knack and it helped him win in Mugello.
Suzuki - who last raced in MotoGP in 2011 - are testing their bike on Monday and we all hope they decide to return for 2014. It would be another factory bike on the grid and there will be a fair few riders eyeing a big pay cheque to get on it, most notably Britain's Cal Crutchlow.
I always said that there wasn't much wrong with the Suzuki. It was getting fifth and sixth-placed finishes pretty regularly, and I don't see why they wouldn't be competitive if they come back. Suzuki have massive heritage in grand prix racing, including with Britain's last race winner Barry Sheene, so let's hope they do come back soon.
In the Moto2 class, Scott Redding is flying and has built up a 43-point lead. There is a long way to go but he will already be thinking that he would be an idiot to squander such a lead. If he goes on winning races, then the title will take care of itself, but he can afford to manage races now and not take risks.
He is riding superbly though and long may it continue.
Steve's Catalunya predictions:
1. Dani Pedrosa 2. Jorge Lorenzo 3. Marc Marquez