MotoGP: Is Dani Pedrosa feeling the pressure of leading?

By Steve Parrish
BBC motorcycling commentator
Last updated on .From the section MotoGP30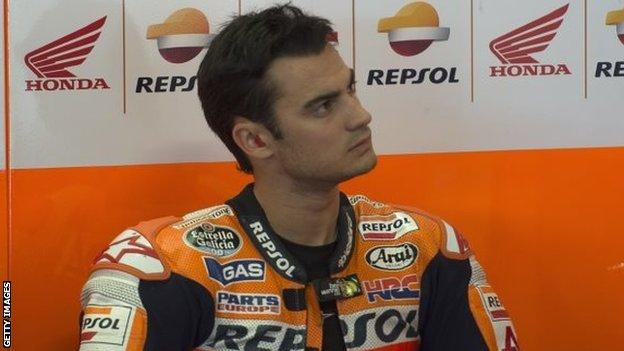 Is Dani Pedrosa feeling the heat?
So when defending champion and nearest title challenger Jorge Lorenzo threw himself off his bike at 120mph in practice in Assen last time out, breaking a collarbone, Pedrosa must have felt he had a chance to take a stranglehold on the title.
Instead, he could only limp to fourth place, with the bionic Lorenzo returning to take a miraculous fifth and limit Pedrosa's lead to just nine points.
Pedrosa has not won in three races and a pattern has emerged, with him starting each race well but then fading as his tyres go off and the grip deteriorates.
You would always expect him to be in the top three so his result at Assen was a big disappointment.
That is why he needs to win in Germany this weekend. He has won there in each of the last three years but has had bad times there too - he crashed out at Sachsenring in 2008 when he had a massive lead.
Lorenzo kept his championship alive with his superb ride last time out, he would have expected Dani to win or be second and he could easily be 30 points down now. Instead, he trails by just nine points after his team-mate Valentino Rossi returned to winning ways.
It will be interesting to see how Lorenzo is this weekend. He should obviously be much fitter than he was at Assen but he still won't be anywhere like 100% yet. I suspect he will have rested his collarbone up and he is likely to be in the mix for a win in Germany.
All the talk in motorsport for the last few weeks seems to be around tyres, but touch wood they don't tend to be a problem in MotoGP.
We did have one very scary incident in 2004 when Shinya Nakano's rear tyre exploded at Mugello at about 220mph but, overall, tyres are rarely an issue.
Cal Crutchlow proved by taking pole in Assen that he has the pace to challenge and there's no doubt he can win a race this year. He just needs to get over this problem he has at the start of races, when he struggles with a full fuel tank.
He knows he has to sort that out as he loses too much time in the first five laps. But if he pushes too hard then he is liable to crash like he did in Catalunya. So it's treading a fine line, he is racing on a knife edge.
It's contract season and there were a lot of rumours around in Assen that Cal had done a deal with Ducati. He was keen to play them down but I spoke to one of the bosses at Yamaha and his eyes told the story that they were losing the fight to keep him.
Cal is adamant he wants a factory bike with a factory paycheque next year and the Ducati may be the only option he has.
Scott Redding is also likely to sign a deal to move up into MotoGP this weekend and he has to decide whether he goes with a Ducati or a Honda package. We will wait and see on that one but everyone is impressed with Scott at the moment.
He looks like he is enjoying his racing and he is leading from the front superbly in Moto2. He retains a strong championship lead and when he can't win, he takes good points.
That is how you win championships. Let's hope Scott can see the job out.
Steve's Sachsenring predictions:
1. Dani Pedrosa 2. Jorge Lorenzo 3. Marc Marquez
Steve was talking to BBC Sport's Tom Rostance