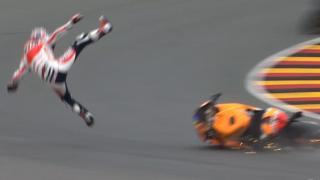 Pedrosa misses German GP after crash
Dani Pedrosa injures his collarbone in German MotoGP practice and has confirmed he will miss the race.
The leader of the MotoGP championship came off at the first corner of the Sachsenring and as a result missed the proceeding qualifying session.
Jorge Lorenzo, second in the championship standings, is out of the race after re-injuring his collarbone in an earlier practice session.