MotoGP: Cal Crutchlow may never have a better chance to win

By Steve Parrish
BBC motorcycling commentator
Last updated on .From the section MotoGP42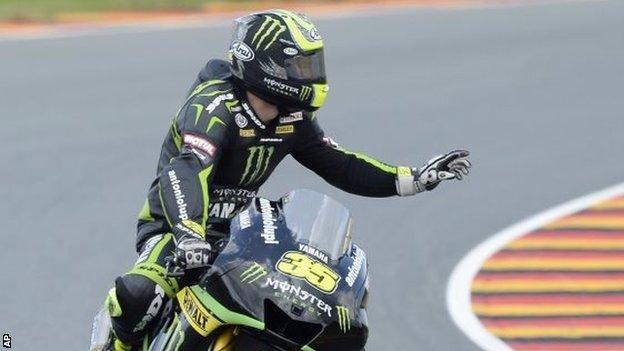 It is nearly 32 years since a British man won a premier class motorcycling grand prix - it was so long ago in fact that I was still racing.
It seems a long, long time since my mate Barry Sheene took his 19th and final win in Sweden in August 1981, but I honestly believe that wait is about to come to an end.
I've never backed Cal Crutchlow to win a race before and I hope I haven't put the kibosh on things but I really do think he'll do it this weekend at Laguna Seca.
Everything is pointing in his favour. He is riding superbly, he knows the track while Marc Marquez doesn't, the top two riders are nursing injuries while he has proven consistently that he can beat Valentino Rossi.
Add it all up and it points to a win, and it's probably his best chance of the season, and Britain's best chance of a win in many, many years.
Laguna Seca is the shortest track we go to, there shouldn't be any deficit in power between his bike and the others and he is riding the crest of a wave.
This weekend also feels pivotal as if Crutchlow does leave his Tech 3 Yamaha team to sign for Ducati for next season then it may be a case of now or never as I can't see a Ducati win coming any time soon. Cal must be doing some soul searching in trying to decide what to do and a race win may help his negotiations.
Crutchlow is in the form of his life, with four podium finishes in the last five races, but his rivals are not in such good shape.
Defending champion Jorge Lorenzo despite the fact that he bent a titanium plate in his collarbone last weekend. He will ride at Laguna Seca but I expect him to be very cautious.
He's got to get as many points as he can by finishing perhaps fourth or fifth, ride well within his limits and know that after his race there is a four-week gap to heal up properly.
Lorenzo said that he would not be taking any risks this weekend, but you can never say that when you are racing a 250bhp motorcycle against 20 other guys. He will have a few percent in hand though.
Dani Pedrosa will be the same. He also missed the last race with injury but neither of them can afford to lose another 20-odd points to new championship leader Marquez. It's damage limitation for them this weekend.
It has been an amazing few weeks of action, with Lorenzo and Pedrosa going through the wars, and it has opened the championship right up again.
If Pedrosa doesn't win the championship this year then he will kick himself. Lorenzo has had two big crashes in the build up to two races in a row and injured himself. Pedrosa could have taken 50 points if he'd won both races and really put Lorenzo in trouble but instead he has only managed one fourth-placed finish.
To only be nine points ahead of Lorenzo is a poor run of form, and to make matters worse his rookie team-mate Marquez is now leading the championship. At the start of the season I thought that Marquez would win a few races - he is as fast as they come - but I expected it to be him who was in and out of A&E as the season wore on.
Instead, he is the last man standing as his experienced rivals nurse broken bones.
Marquez has had his share of crashes - including a massive one at Mugello - but he is a young kid who has bounced back up off the tarmac. The older you get the harder you fall and he has proven that so far.
Lorenzo is going against doctors' advice by racing this weekend but that's nothing new for a bike racer. I was told many times years ago that I would suffer later in life by riding with injuries. I ignored the doctors, but they were right, and my knees are finished.
I'm sure Lorenzo will have problems as he gets older. It's par for the course for a bike racer, but it always comes down to the same question.
How much do you want to win the championship? Enough to get back on the bike regardless.
Steve's Laguna Seca predictions
1. Cal Crutchlow 2. Valentino Rossi 3. Dani Pedrosa
Steve was talking to BBC Sport's Tom Rostance