MotoGP: Marc Marquez continues to surprise and excel

By Steve Parrish
BBC motorcycling commentator at Laguna Seca
Last updated on .From the section MotoGP35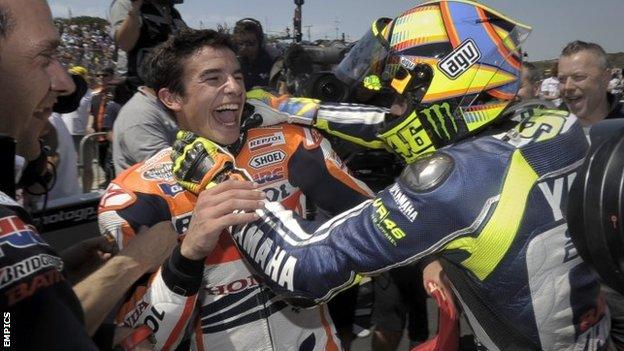 It's half-term report time in MotoGP and new boy Marc Marquez just has to have an A+.
This kid is extraordinary. I don't think I've ever seen anyone like him in grand prix racing after his
He had never been to Laguna Seca before this weekend, and ended the first practice session in third spot. That was when in the desert - and he went from strength to strength.
Normally when these riders come up against a new track they take it steady for the first few sessions as they get to grips with the challenges. Bradley Smith - another rookie this year - came out earlier in the year to have a few days around the Laguna Seca circuit on a road bike.
But Marquez doesn't seem to worry about it. He just turns up and blasts everyone.
His rivals must be wondering what on earth they are dealing with now. Everyone expected him to be fast in his first year, everyone expected him to win the odd race or two.
But nobody thought he would have a 16-point lead at the top of the standings halfway through the season.
You have to consider him as a serious title contender now which for a rookie is just remarkable.
He is past the dangerous part of the season for him. He understands the bike now, the tyres, and the tracks and I can only see him getting stronger.
I expected him to crash a lot - and he has had his fair share - but instead it's Jorge Lorenzo and Dani Pedrosa who head into the halfway point of the season licking their wounds.
The two favourites for the title both rode very well this weekend considering the fact that they were recovering from injuries. They didn't drop away in the second half of the race as we expected and it was a gutsy effort from both.
They'll be fitter and stronger when we return to the United States in a month's time.
But everyone will be talking about one moment - Marquez's move on Valentino Rossi which was wonderful.
Marquez passed Rossi going into the famous 'Corkscrew' downhill corner in a carbon copy of Rossi's own move on Casey Stoner at the same corner in 2008.
This is a kid who grew up with posters of Rossi on his wall and now he is beating him, and beating him by emulating his own famous overtaking moves.
Valentino must have been thinking that he would teach the youngster a lesson when he braked late into the corner, forcing Marquez wide as he tried to overtake. But Marquez just chucked it in anyway, pushing them both off the track and on to the grass. It was a great moment in what was otherwise a fairly quiet race.
All the rumours around the paddock this weekend are that Stefan Bradl is being kicked out of his LCR Honda team, with Cal Crutchlow potentially taking his place. So it was ironic that the two riders had such different weekends.
Crutchlow struggled - which is not like him this season - while Bradl had the weekend of his MotoGP career, becoming the first German to take pole position and then collecting his first ever podium finish. He could not have done more at the right time.
Cal didn't have a particularly good qualifying, he struggled with a crash and his bike, and the race just didn't happen for him. It was probably my fault after He will be back though and a win is out there for him.
We also had some sad news in the motorcycling world as we woke in America to hear about the death of Andrea Antonelli - who was killed in an accident during the World Supersport race in Moscow earlier on Sunday.
It's tragic news which affected a lot of people in the paddock who knew him and it was a reminder yet again of the dangers of the sport we love. Thankfully these occasions are reasonably rare but it is the reality.
Steve was talking to BBC Sport's Tom Rostance